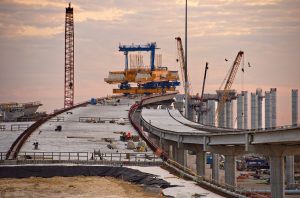 There is a consensus that the United States' infrastructure, particularly roads, bridges and transit systems, need significant updates and investments, but who is going to pay for these improvements is becoming an increasingly debated issue.  On June 10th, a group of Republican and Democratic Senators said that they are officially opened to consider changing the structure of the national gasoline tax, which would be the first time the tax has been changed since 1993.
The current national gasoline tax sits at a fixed 18.4 cents/gallon.  The compromise plan would include indexing the gasoline tax to a measure of inflation.  Sen. Mitt Romney (R-Utah) said, "It keeps it at the same value that it has today."  While direct talks between the Biden Administration and group of Republican Senators ended without a deal, the bipartisan negotiations appear to be picking up steam.  President Biden has publicly opposed "user fees" as a way to pay for infrastructure, equating it to a tax increase on lower-income Americans.  Only a few months ago Pete Buttigieg (Transportation Secretary) said that the Biden administration was open to vehicle-mile tax (VMT) that would pay for road maintenance.  The vehicle-mile tax would capture revenue from electric cars that are growing in popularity, but do not pay federal gas tax.  The VMT was ultimately scrapped because of its perceived negative impact on lower- and middle-class Americans.
Democrats and Republicans both agree that our nation's infrastructure is in desperate need of repair and updates, and the bipartisan gasoline index tax is gaining momentum.  At this point in time many Congressional Democrats would prefer to increase taxes on wealthy individuals and corporations, but there is pushback from their Republican colleagues, leading to the formation of the joint group of Senators working on the new index proposal.  The issue of infrastructure will remain a key issue for the administration, and we'll soon have a clearer idea of who will actually be footing the bill.