Source One
A Guttman Group Company
When your fuel absolutely needs to get there, Source One rises above the rest. Combining intelligent logistics technology with responsible and efficient drivers, Source One is your go-to solution for all your fuel transportation services. From fuel procurement to distribution – Source One delivers with precision, innovation, reliability – and
does so, SAFELY.
Ready to learn more about all the ways you can manage your fuel distribution?
Speak with a Source One Rep:
Matt Slotter
mslotter@source01.com
724-489-5146
Interested in driving for Source One?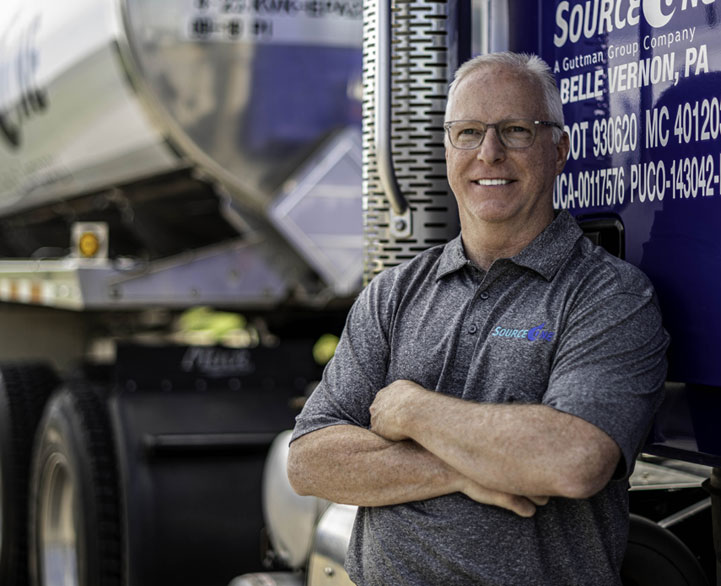 Source One offers a safe and reliable fleet that meets all of your fuel delivery needs 24/7/365.
Source One's main priority is to get your fuel from point A to point B safely, efficiently, and on-time. If your fuel destination is beyond Source One's geographic service area, they utilize relationships with reliable carriers to facilitate a safe and timely delivery to any destination.
Source One's logistical services allow petroleum marketers and retailers to outsource all or part of the petroleum delivery process.
Source One Safety
Source One takes great pride in the many ways it delivers safe and secure fuel to its customers. Maintenance technicians are on staff and available to make sure vehicles are serviced, and undergo constant routine equipment maintenance. Full-time Trainers are always on staff. It is safe to say that Source One cares.
Operation Centers
With operations in Pennsylvania, Ohio, and West Virginia, Source One customers within the tri-state area can expect fast and efficient service from our nine different locations.
Ohio
– Aurora, OH
– Columbus, OH
– Youngstown, OH
– Cleveland, OH
Pennsylvania
– Altoona, PA
– Delmont, PA
– Neville Island, PA
– Sinking Spring, PA
West Virginia
– Newell, WV