Join Our Team
At Guttman Energy, we believe that an excellent company starts with excellent people. Explore the job openings below and consider becoming a part of our dynamic team of professionals.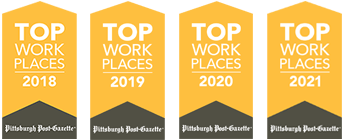 Openings
Fleet Card Sales Representative
The position is located in the Belle Vernon, PA office. The candidate is responsible for prospecting and selling Fleet Card Services to regional trucking companies located in tri-state marketing area.
Click here to learn more and apply.
Developer
The Developer position is responsible for participating in and executing all tasks throughout the application development lifecycle including project plan, analysis, technical design/document, development, testing, and implementation for small to highly complex projects.
Click here to learn more and apply.
Sales Representative, Fuels
The Sales Representative position is responsible for prospecting, acquiring, and maintaining commercial fuels business, and strategic program business throughout the eastern half of the United States. The major functions of this position include providing consultation and expert advice to clients, representing the company during important contract negotiations, as well as the ability to collaborate with various departments to generate value-added solutions to existing clients through the development of innovative/effective programs.
Click here to learn more and apply.
Credit Analyst
The Credit Analyst is responsible for performing all analysis and research to establish and maintain customer credit limits, maintaining acceptable levels of delinquency and collections for assigned Accounts Receivable portfolio and preparing various financial analyses and metrics related to the Company Credit function. Click here to learn more and apply.
Inventory and Tax Analyst
Responsible for completeness and accuracy of recording of inventory transactions, including processing of Throughput, Pipeline and Terminal settlement invoices. Click here to learn more and apply.
Billing Associate
The Fuels Division Sales Analyst position is responsible for preforming multiple administrative functions to support the Sales, Actualization and Operational Accounting departments. The major functions of this position include analyzing current processes, reviewing accounting transactions for accuracy, entering sale deals into Right Angle, analyzing sales data and increasing overall efficiency within the Operational Accounting department. Click here to learn more and apply.
Supply Analyst
The Supply Analyst position is responsible for outside supplier pricing analysis, vendor support, profitability analysis, position management, inventory allocations & direction and market intelligence for the company's supply and trading business. The major functions of this position also include providing critical information on an accurate and timely basis. Click here to learn more and apply.