World-Class Energy and Logistics Services for the Oil & Gas Industry
With over 90 years of experience serving the oil and gas industry, Guttman Energy gets it. Whether you're on a gas pad or managing a fracing operation from the office, the last thing you need are complications.
That's why we provide our customers with integrated and state-of-the-art solutions—we call them "World-Class". These benefits are unique to Guttman Energy, no other company offers these services with the efficiency or responsiveness that we do.
Total fuel delivery from rack to location
Service 24 hours a day, 7 days a week
Integrated Fuel Supply and Delivery systems
Mobile and bulk tank fuel storage solutions
Flexible pricing programs
Seamless electronic delivery confirmation
From rack to location, let Guttman Energy handle all your fuel delivery and logistic needs. To learn more, contact a Guttman Energy rep today.
Technology to Enhance Your Oil & Gas Operation
Guttman Energy is fueling innovation to provide our oil and gas customers with administrative efficiencies they can't get anywhere else. By harnessing the power of technology to close gaps in fuel delivery and logistics management, we're automating fuel delivery and logistics to make managing your energy a breeze.
Our trucks, drivers, tanks, and other equipment are equipped with state-of-the-art computer tablets, QR codes, GPS location and real-time tracking that allows us to eliminate the distracting step of paper tickets and signatures. Our technology provides you with a one-page recap of the deliveries made to each pad, each day, with prices included so that you can efficiently load your project management system.
This unparalleled process allows for transparency and maximum efficiency for our customers. With hassles handled, your company can direct their attention to ensuring your operation is running smoothly and safely. That's fueling intelligence.
A Commitment to Our Customers
To keep your business running efficiently, you need someone who has your back. Guttman Energy understands how to manage risks and support your operation. That's why we have a 24/7 service line to a responsive oil and gas expert for any on-site issues.
When it matters most, our oil and gas customers turn to Guttman Energy.
See why.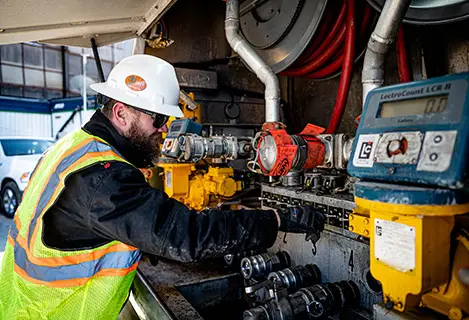 Guttman Energy's Culture of Safety
Guttman Energy is leading the oil and gas industry in safety. Our top priority is the welfare of our workers. Through diligent training and education, maintain an excellent safety record with almost no employee safety issues. Through the implementation of structured workplace monitoring, we have also kept an outstanding spill safety incident rate. We keep our value of safety at the center of all our customers' interactions.
Are You Ready for World-Class Solutions?
Call now to talk to a customer service representative or fill out the
form below and a rep will reach out to you.