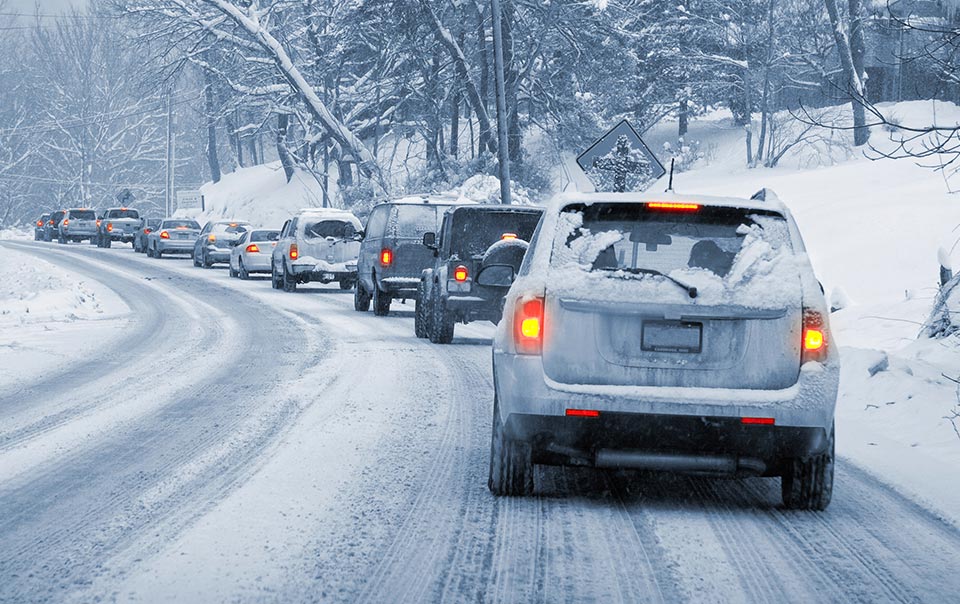 Today could mark the first snow fall of the 2022 winter season in parts of Western Pennsylvania and Maryland. Is your fleet ready? Recently, a crash occurred in Virginia on 1-95 when a tractor trailer jackknifed causing many other vehicles to lose control. Lanes in both directions of the interstate were blocked for at least 40 miles causing hundreds of people to be stranded in their vehicles for several hours. Many stranded drivers were without food, water, or other means of staying warm during this time. In addition to an already uncomfortable situation, the weather took a turn for the worst as freezing temperatures and snow squalls moved in.
Preparing for any type of situation like this that could happen is important. Here are some tips on how to prepare and stay safe if this should ever happen to you or one of your drivers.
Prepping before you hit the road
Before you hit the road, especially with longer distances to travel, it is important to make sure your vehicle has been checked for any maintenance issues that could occur. This includes breaks, tires, battery, wiring, and antifreeze levels. Check your vehicles owner's manual for any other recommendations.
Another important consideration is checking the weather in advance to incase you decide to cancel or modify your trip if poor conditions are headed in the direction you plan to travel.
Keep extra hats, gloves, and blankets in your vehicle incase you do get stranded somewhere along with food and water, flashlights, an ice scraper, and snow removal brush. Make sure to always keep at least half a tank of gas in your vehicle throughout your trip. In wintery conditions, avoid using cruise control when driving in slippery conditions. Since the cold weather can affect your vehicle and its battery, it is always good to keep jumper cables in case your battery dies. Additional items to consider are a small tool kit, extra cell phone charger, and windshield washer fluid with antifreeze component since it can help your windshield from freezing.
If you plan to travel in poor conditions, notify someone in advance of your route, destination, and planned arrival time.
If you get stuck in snow
No matter what, it's better to stay in your vehicle if you get stuck somewhere. In poor conditions, if you leave your vehicle and begin to travel on foot, you could be putting yourself in danger. If your vehicle gets stuck and you attempt to dig out, listen to your body and do not overexert yourself. Rock salt and kitty litter can come in handy if your tires get stuck. The materials can help tires gain traction.
Make sure to stay visible so other motorist see you. This means keeping bright colored clothing, towels or rags in your vehicle and placing them on the top of a rolled-up window to signal distress. You can also keep flares or reflectors so other motorist can see you on the side of the road.
Be sure to check your exhaust pipe to make sure it is clear of ice and snow. A blocked exhaust pipe can cause carbon monoxide to leak into the vehicle when the engine is running.
Try to do your best to conserve fuel in your vehicle. Avoid keeping your vehicle on for extended periods. Only run the engine long enough to remove any chill to help conserve fuel.
If you are in an accident or notice another driver in distress, it is good to keep a first aid kit in your vehicle. If you can get to the victim that was in an accident, administer basic first aid until an emergency response team arrives.
To learn more about how to prepare your fleet for the winter, look at our previous blogs.
Preparing Your Fleet for Winter? Start Early
Winter Driving Season Forecast: Delays Likely
Sources:
https://www.travelers.com/resources/auto/safe-driving/winter-driving-safety-tips
15 Important Things to Keep in Your Car During Winter
https://exchange.aaa.com/safety/driving-advice/winter-driving-tips/
https://ktla.com/news/nationworld/hundreds-stranded-all-night-on-1-95-in-virginia-after-crash-on-snowy-highway/