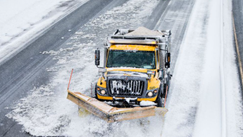 Each year, as we prepare for the winter driving season, it is typical that we warn our customers delays are likely to occur. We often suggest wider timeframes, flexibility on delivery dates, and ordering in advance if a winter storm is being predicted. While companies and drivers can prepare for the winter by getting their trucks ready for winter conditions, even the most experienced and trained drivers cannot predict weather conditions, road conditions or drivers sharing the road.
Pair that with the reported shortage of snow remover/plow truck drivers across the country, we will now likely face even more delays and possibly higher risks while driving. Given the shortage of drivers in other sectors, plow truck drivers are moving to private companies offering bonuses and higher rates rather than working for the state on fixed salaries. States still recruiting drivers are Ohio, Pennsylvania, Michigan, Oregon, Missouri, Illinois, Iowa, Rhode Island, and Wyoming. As a result, this has led to record shortages in the industry, including six states that are reporting over 100+ driver shortages. According to PennDOT, with Pennsylvania being one of those six states, they have filled 40% of the temporary operator positions and 93% of their permanent positions needed to clear the roads of snow and ice. Typically, they hire 695 temporary operators for the winter season to lessen the load and to be more efficient. In total, the state uses 2,350 trucks, plows, and salt spreaders. To operate the equipment, they have 4,700 on-the-road workers including the temporary operators. PennDOT does not want drivers to think that the roads won't be cleared, but drivers need to be patient, as heavier traveled roads will be prioritized.
As states are asking for patience with snow/ice removal and treating of roadways, please keep that in mind during your own travels, when ordering fuel, and expecting other deliveries. Remember that safety is always the top priority.
https://www.accuweather.com/en/winter-weather/snowplow-driver-shortage-slowdowns-clearing-roads-winter/1042342
https://www.pennlive.com/news/2019/01/with-two-storms-approaching-penndot-faces-plow-truck-driver-shortage.html (picture)
https://www.ydr.com/story/news/2021/11/09/penndot-hiring-hundreds-snowplow-drivers-jobs-clear-roads-winter-pennsylvania/6341134001/
https://thehustle.co/09052021-snowplow-driver-shortage/
https://www.pennlive.com/news/2021/12/with-snow-predicted-this-week-will-penndot-be-able-to-clear-the-roads-with-limited-staff.html