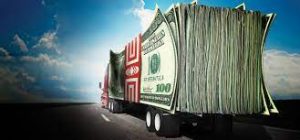 With the pandemic end in sight, trailer manufacturers are playing catch up and battling strong demand that is not being offset by high prices. Manufacturers orders are backed up several months and they are renegotiating pricing with consumers due to the volatile market. Trailers are reaching new highs, carriers and manufacturers are paying premiums to meet the demand, and consumers are biting the bullet on the back end.
How is Inflation Affecting the Trucking Industry?
With the world brought to a halt in 2020, consumer delays are expected to spill over into 2022 or possibly 2023. With an increase in driver costs due to labor shortages and volatile costs for raw materials and components, manufacturers can't effectively set prices on trailers without possibly having to reevaluate the price later on with the consumer. Frank Maly, the director of commercial vehicle transportation analysis and research at ACT Research Co. said, "the whole thing about the pricing on the component side is that you've got trailer manufacturers going back to fleets who have orders on their order boards right now. Nobody's going to be very happy to get a phone call to reopen negotiations."
Companies are attempting to acquire raw materials across a variety of industries and economies around the world that are continuing to recover from the impact of the COVID-19 pandemic. Shortages of materials and components such as lumber, steel, aluminum, tires, and suspensions can make meeting consumer demand very challenging. Steel has increased $900 per ton compared to last year, and rubber has increased a little over a dollar per kilo. Not to mention the increase in gas, diesel, and driver wages. Trailers are on backorder and taking serval months before they reach the consumer. With the consumer demand for trailers at its peak, production of trailers is down due to the lack of workforce. Hyundai Translead, the leading manufacturer of dry and refrigerated van trailers and domestic container production, has slowed in a time of desperate need. In 2018 Hyundai Translead was producing more than 1,300 trailers per day compared to 1,000 per day now. This will continue to be an issue for trailer manufacturers until the workforce gets back into the field.
In a previous blog post from Ali Ventura, according to an article from Freight Waves, "New truck production, beset by shortages of microchips that power critical vehicle functions, and through-the-roof commodity prices, is only beginning to recover but manufacturers are having difficulties hiring enough workers. Demand continues to outpace supply and for that reason, truck prices continue to increase."
The forecast for Class 8 truck production isn't expected to slow down and is expected to grow from 310,00 this year to 340,000 in 2022 and 350,000 in 2023. With the vaccine becoming more readily available in other countries. It's expected that more will enter the workforce, correcting the supply chain and lowering overall costs, but the timetable is uncertain.
High Demand, Rising Component Costs Put Pressure on Trailer Production | Transport Topics (ttnews.com)
State of Logistics 2021: Truckload – Logistics Management (logisticsmgmt.com)
A Used Truck is How Much? – Guttman Energy
Do you need help with fuel delivery services? Find out more about what we can do to help you: https://www.guttmanenergy.com/fueling-solutions/