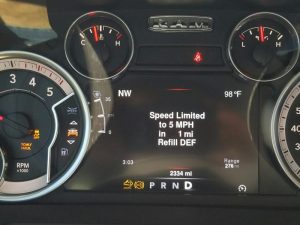 Diesel Exhaust Fluid (DEF) is a little-known resource that plays a major role in our everyday lives. DEF is a farm-based product, urea, that was mandated for diesel vehicles in the US in 2010. It's a product that helps reduce NOx and particulate matter. [1]So how does a DEF shortage play into bigger supply chain disruption? Commercial motor vehicles that move commodities across the US utilize approximately 37.6 million tons of DEF and we are experiencing a global shortage. If trucks are unable to gain access to a component required to run these diesel-powered units, it could spell disaster for an already reeling supply chain. [2]
DEF markets began seeing increases in October of 2020 during the height of the Covid-19 pandemic. The market saw a 60% domestic increase year-over-year from October 2020 to October 2021, reaching an all-time high in November 2021. International markets reached over 225% increases per ton from $600 to $2,000/ton in the same time.
So why is DEF in such short supply you may ask? Several factors play into how the world got itself into a supply shortage. China is the number 1 manufacturer of DEF globally. Urea is the main component of DEF, but it's primary use is fertilizer in farming. China's increased demand for urea in farming caused it to cut production of DEF fluid. Australia was one of the first countries to see the effects of China's cutbacks.[3] Additionally, DEF is utilized at a rate of 2-3%. That means that for about every 200 gallons of diesel used you will use about 1 gallon of DEF. The mandate for DEF began in 2010, so the average age of vehicles on the road utilizing the commodity is growing. The older vehicles are less efficient at burning fuel and therefore require more DEF. More and more vehicles that are lawfully required to use DEF continue to hit the market with no more manufacturing taking place in the DEF supply chain. In short, we have a growing demand and no new supply. The data suggests the market will grow from $22 billion in 2020 to $45 billion in 2027 in the US alone.
In conclusion, as demand and price continue to increase with no real solution to manufacture more DEF long-term, the disruption to an already reeling supply chain situation could be exacerbated by a DEF shortage. All diesel-powered trucks since 2010 require DEF to run. If the trucks DEF tank runs empty, the truck will shut down and not run, meaning millions of commercial transportation trucks could be sidelined at the height of the trucking industry need. To learn more about the commodities markets and to find your company's diesel fuel and DEF strategy, talk to your Guttman sales representative today!
[1] https://www.capitalremanexchange.com/20-facts-you-need-to-know-about-diesel-exhaust-fluid-def/
[2] https://www.marketsandmarkets.com/Market-Reports/diesel-exhaust-fluid-market-155714937.html
[3][3] https://www.abc.net.au/news/rural/2021-12-14/has-the-adblue-shortage-reached-crisis-point/100700420