Gas prices for the upcoming Fourth of July holiday weekend are lower than both Memorial Day 2019 and July 4, 2018 even when considering the newly implemented fuel excises taxes in twelve states and PES fire. "Since the June 21 blast halted operations at Philadelphia Energy Solutions' 335,000 barrel refinery, the national average for gasoline has risen by about 7 cents per gallon of unleaded to about $2.73 per gallon. The national average on the holiday weekend last year was $2.85 per gallon."[1] Lower fuel prices have travelers turning to road trips to celebrate the summer holiday.
Americans are expected to travel in record numbers starting today. AAA estimates that 48.9 million Americans will travel for the holiday weekend, an increase of 4.1% over the previous year. Most travelers – 41.4 million – plan to drive with the remainder using other means of transportation.
The delays nationwide are expected to increase by 9% with major cities impacted the most. AAA provides the worst time for travel in certain US cities: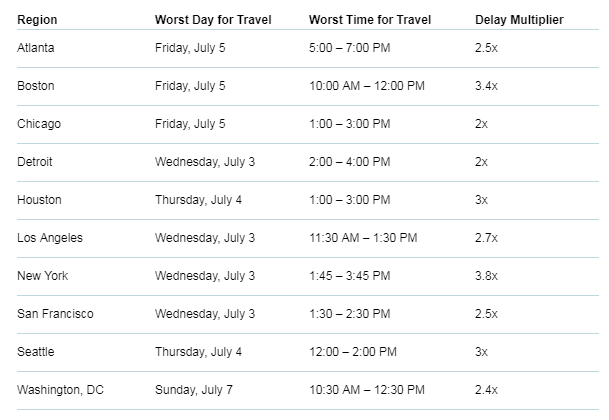 Lower prices are not a constant for all aspects of summer travel. "Some of the savings travelers are enjoying from lower gas prices will go toward other travel costs this holiday, which are trending higher. According to AAA's Leisure Travel Index, airfares on average are 10% more expensive compared with last Independence Day, while average car rental rates are 5% higher than last year, at $69 daily."[2]
The Fourth is also the most dangerous time of year to drive. This afternoon is predicted to be the heaviest of all commutes, but thunderstorms are also in the forecast nationwide to further complicate the day. "AAA expects to rescue nearly 367,000 motorists at the roadside this Independence Day holiday. Dead batteries, flat tires and lockouts will be the leading reasons AAA members will experience car trouble."[3] Click here to find a checklist from USA Today of what to do before embarking on a summer road trip.
[1] https://www.cnbc.com/2019/07/02/gas-prices-domm-190702-ec.html
[2] https://newsroom.aaa.com/2019/06/record-breaking-48-9-million-americans-travel-fourth-of-july/
[3] https://newsroom.aaa.com/2019/06/record-breaking-48-9-million-americans-travel-fourth-of-july/