In an earlier blog post I spoke about the impact of weather on the trucking industry and how this issue has been one of the biggest hurdles faced in trucking. Weather has been responsible for more than 2.2 billion dollars in lost annually in delays. Over these summer months weather has been a major factor in transportation according to the Freight Waves. The Dixie Fire which is the second largest wildfire in California history is now burning 515,756 acres and 31% contained up from 27% a week ago. For the past month this wildfire has closed the entire stretch of HWY 36 in California which will finally begin to reopen again on August 13th.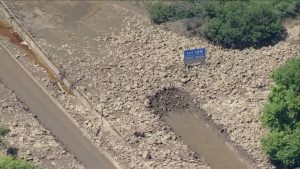 One of the most disruptive weather issues over this summer so far has been the heavy rains in Colorado which has caused mudslides to shut down portions of Interstate 70 where it was completely washed away. Colorado Governor Jared Polis said, "it will take weeks for this stretch of road to reopen with crews already having removed 8200 tons of mudslide debris." The reason this is an issue is many trucks travel part of I-70 which is an important route for truckers heading to busy Southern California freight markets.
Ways to be Prepared:
Be Ready – Items such as bottled water, non-perishable food items, flashlights, rain gear, extra batteries.
Be Informed – Keeping up to date on the local and national news reports concerning the storms, as well as any alerts issued by the National Weather Center.
Get Ahead of the Weather – If you are informed you can act decisively, that should be more than enough time to protect your equipment and fleet assets from storm damage.
Be Watchful on the Roads – Be vigilant to other on the road lookout for downed power lines and exposed equipment or anything that easily injure, kill or start fires.
https://www.freightwaves.com/news/hot-shots-mudslides-floods-wildfires-and-more
https://www.freightwaves.com/news/western-wildfires-spreading-out-of-control
https://www.freightwaves.com/news/dixie-fire-spreading-now-second-biggest-in-california-history
https://www.truckinginfo.com/339563/weathering-the-storm-four-ways-truckers-and-fleets-can-prepare-for-hurricanes
https://news.yahoo.com/dozens-rescued-mudslides-cover-70-005328984.html