Every year across America truckers and the trucking industry face countless struggles. One of the most overlooked issues that the trucking industry faces is the constant changing of the weather. Over the past couple of months there have been snowstorms in the Texas and California causing roads to shut down. There have also been hurricanes and storms throughout the Gulf of Mexico and into the southeastern states, and just last month Arizona was forced to close some of there roads due to wildfire.
This weather has continued into the summer months with the largest wildfire in America currently burning in the state of Oregon. The fire is in southern Oregon, and the fire that was first reported on July 6, covered 212,377 acres as of early Thursday morning and is only 5% contained.  Experts believe that they will not have it contained until this fall.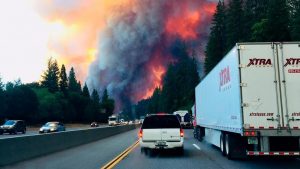 According to AccuWeather and the U.S. Department of Transportation, a review found that each year trucking companies lose an estimated 32.6 billion vehicle hours due to weather-related congestion in 281 of the nation's metropolitan areas. They also found that nearly 12% of total estimated truck delay is due to weather in the 20 cities with the greatest volume of truck traffic, with the estimated cost of weather-related delay to trucking companies ranges from $2.2 billion to $3.5 billion dollars annually.  The trucking industry has battled back from the Covid-19 pandemic over the past year ,showing just how resilient the industry is.
https://www.freightwaves.com/news /blizzard-continues-blasting-the-sierra-nevada
https://www.freightwaves.com/news/oregons-bootleg-fire-burning-out-of-control\
https://www.fleetowner.com/perspectives/trucks-at-work/article/21694803/mitigating-the-weathers-impact-on-trucking
Do you need help with fuel supply and trucking logistics? We can help, visit: https://www.guttmanenergy.com/fuel-transportation-delivery-logistics/