The Energy Information Administration (EIA) just released that the U.S. national average diesel price at the pump is $5.623/gallon. Is there any relief in sight? Let's digest some data and assess.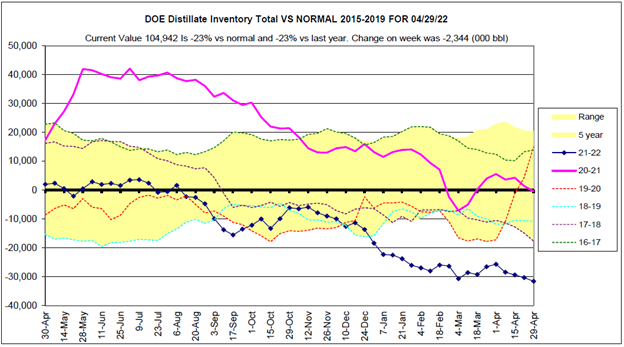 The Department of Energy's (DOE) petroleum report revealed last week that U.S. distillate inventories are at their lowest level in 30 years; 104.9 million barrels. Let's first ask why this is on the supply-side. U.S. refineries are currently running at 88.4% capacity: off from 90.3% just the week prior. What happens when refineries run at this high of a rate is that things can go wrong. Typically, the highest this reading goes is 92-93% before it drops off because equipment at refineries tends to break when it's being maxed out. Just for color, the last refinery built in the U.S. was in 1976. So, from the supply-side, we're pretty much maxed out.
On the demand side, distillate fuel exports are up 24% year-over-year to fulfill the Russian void and serve as a backup to natural gas throughout the world. The United States has already issued a ban on buying Russian crude oil, but the European Union (EU), who buys about half its oil from Russia, has not. However, that may change after French minister Beaune said the EU could reach a deal on banning Russian oil as soon as this week. If the EU bans Russian oil, which the market expects, diesel fuel will be consumed even more.
On top of that, diesel fuel demand could increase to serve as a more reliable backup source to natural gas than normal. Two weeks ago, Russian President Vladimir Putin weaponized its supply of natural gas into Europe by cutting off flows into Poland and Bulgaria. This was most likely used as a tactic to show Russia's strength to threaten the EU from banning the purchase of Russian oil. It is a very scary and real threat that the EU faces this upcoming winter which has traders on a spending spree stockpiling natural gas and diesel fuel, pushing both to prices we haven't seen since 2008 and the highest ever, respectively.
With all this being said, unless we get a recession this year, or there is an amicable end to the Russian/Ukraine conflict, diesel fuel supplies will continue to remain tight for the balance of the year. Therefore, any significant pullback in prices presents a buying opportunity.
June NYMEX ULSD currently trades higher by $0.0833 to $3.9182/gallon.
National diesel average sets another new record, reports EIA – Logistics Management (logisticsmgmt.com)
No New Refineries in 29 Years? There Might Well Be a Reason – The New York Times (nytimes.com)
French minister Beaune: EU deal on Russian oil ban could be reached this week | Reuters
OPEC Kingpins Sound Alarm Over World's Dwindling Energy Capacity (yahoo.com)