The oil market is rallying today primarily because of a sizable crude oil draw reported by the DOE, a softening dollar, and bullish OPEC comments.
The Department of Energy (DOE) reported its weekly petroleum statistics earlier this morning and the biggest takeaway was the 5.8 million barrel draw in crude oil. This was slightly more bullish than the American Petroleum Institute's (API) estimate of a 5.2 million barrel draw. The other statistics aren't as bullish and thus may keep a lid of the rally we're seeing. Gasoline stocks built 1.2 million barrels vs. a 0.9 million barrel draw expectation, distillate matched expectations and built 1.8 million barrels, Cushing crude oil stocks built 0.8 million barrels vs. a 0.195 million barrel build expectation; refinery runs stayed unchanged at 98% of capacity, and U.S. oil production increased 100,000 barrels per today to 10.9 million barrels per day.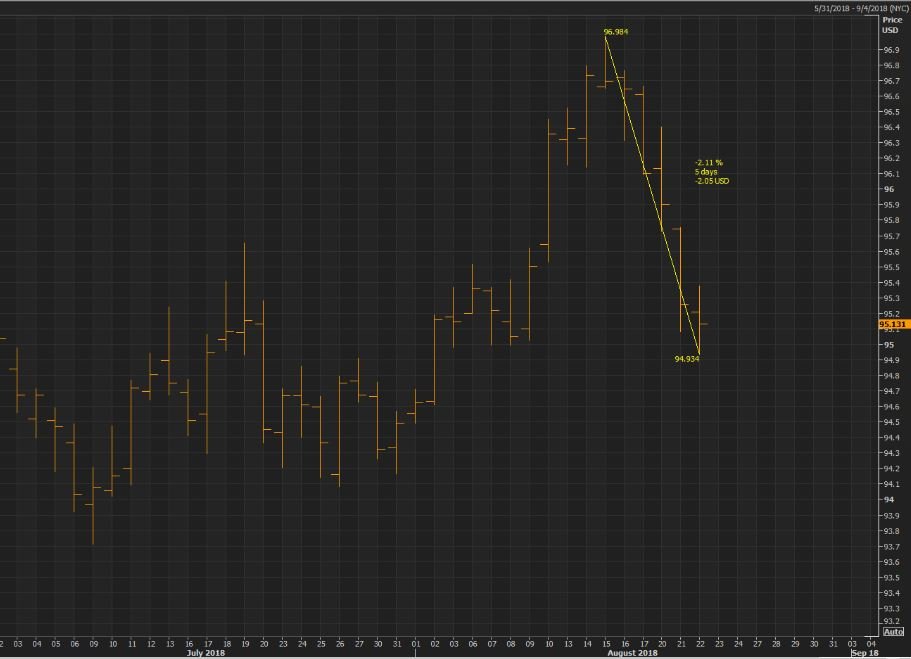 Another reason for the rally in oil prices is due to the dollar index's decline over the past week. In the picture above, you can see the dollar topped out at 96.984 last week as traders were primarily concerned about the Turkish lira. As of this morning, we are trading right around 95.00. This decline in the dollar has an inverse effect on commodity prices, which is another reason why crude oil prices have risen in the past few days.
Finally, Reuters published a report that had bullish comments from the Kuwaiti Oil Minister Bakhit al-Rashidi. The minister was quoted saying "the production numbers of OPEC and (countries) outside OPEC will be reviewed at the meeting in Algeria, and before the end of the current year, there will be an agreement on a mechanism to monitor output next year." Although this is a bullish statement, this has been OPEC's primary problem over the past few decades: non-compliance amongst its members. If it can create a robust tool to prevent members from producing too much crude oil over its quota, OPEC's production quotas would earn a much higher level of credibility. The meeting is set to take place in Algeria on September 23rd.
October WTI crude oil is currently trading up $1.63 to $67.47/barrel, September ULSD is higher by $0.0373 to $2.1609/gallon, and September RBOB is up by $0.0404 to $2.0583/gallon.