While energy poverty is an issue that has a global impact, energy insecurity is a more common problem in the U.S. than most realize. Energy poverty impacts areas of the world where access to modern energy does not exist while energy insecurity impacts households who cannot afford to pay for household energy. The Energy Information Administration (EIA) is a government agency responsible for analyzing energy information and disseminates the information through studies making the findings relevant to the American consumer.
"According to the most recent results from EIA's Residential Energy Consumption Survey (RECS), about one in five households reported reducing or forgoing necessities such as food and medicine to pay an energy bill, and 14% reported receiving a disconnection notice for energy service. Households may also use less energy than they would prefer; 11% of households surveyed reported keeping their home at an unhealthy or unsafe temperature."[1] Households are still struggling with how to pay their bills or being forced to make the decision on which necessity to forgo.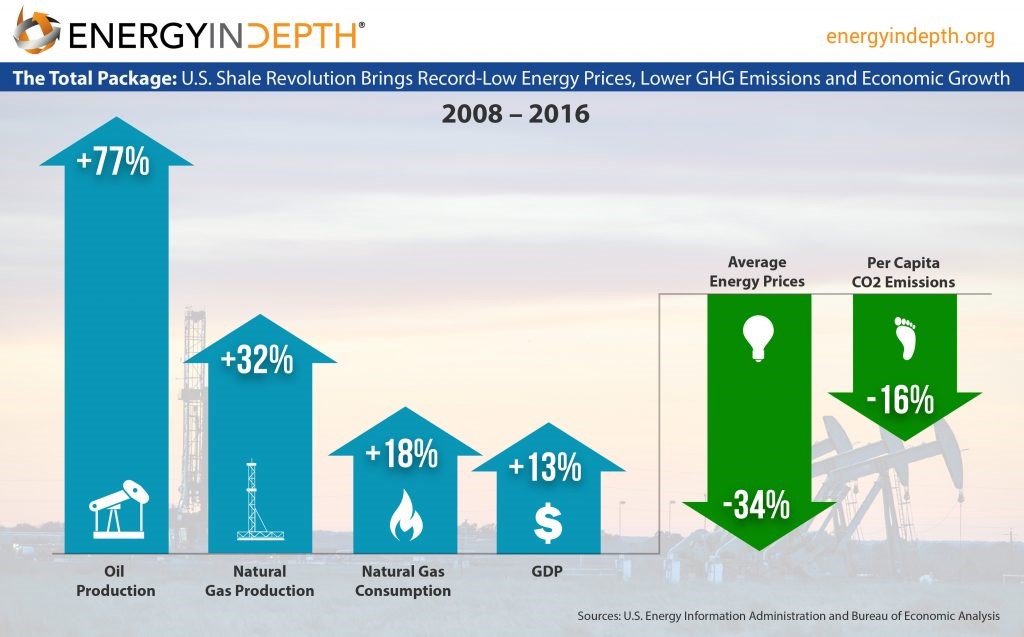 The shale revolution, starting around 2008, has been a large factor in contributing to lower energy prices for U.S. households. Another EIA report "finds average U.S. energy costs fell 34 percent from 2008 to 2016."[2] The reduction in home energy prices allows a cushion for consumers who are facing the reality of deciding whether heat or food is their priority.
Reports from the Consumer Energy Alliance (CEA) are showing a substantial savings for consumers on the price of natural gas throughout Appalachia. The region has the lowest natural gas prices in the world and have provided savings of over $80 billion. Since 2006, Pennsylvania residential customers have saved $13.3 billion, Ohio residents have saved $15 billion, and West Virginia residents have saved $1.6 billion.
"EIA forecasts that abundant and affordable natural gas will easily be the main source of new U.S. energy production, consistently soaring over 60 percent all the way through 2050. Thus, with its proven ability to drastically lower CO2, natural gas is much more than just a "bridge fuel" to a renewable future: Increasingly, gas is a destination fuel that will remain our go to source for clean electricity."[3] As the U.S. strengthens its position of being a net exporter of natural gas in years to come, U.S. households, especially in Appalachia, are reaping the benefits.
[1] https://www.eia.gov/todayinenergy/detail.php?id=37072
[2] https://www.energyindepth.org/survey-underscores-importance-record-low-energy-costs-made-possible-shale/
[3] https://www.realclearenergy.org/articles/2018/07/06/more_natural_gas_is_slashing_us_co2_emissions_110310.html