With supply and pricing volatility, we continue to field more phone calls about helping aid customers on their fuel purchasing. One of the main concerns for a commercial, end-user customer, is that they may not have a dedicated fuel specialist on hand to continually monitor market movements and fuel inventory level inside their own tank on a particular site. One value-add proposition we pride ourselves on is providing customer solutions. One popular solution is our managed inventory program.
Our managed inventory program allows Guttman Energy to communicate with the customer in real-time on market volatility, delivery schedule, local fuel supply stresses as well as the customers live time tank levels.   This is of great value to many sectors with bulk fuel tanks, that might not necessarily have the staffing on hand to keep an eye on many moving parts to ensure their best delivery strategy.
A typical order of operations on our managed Inventory program includes:
Sales representative logging on in the AM to check recent usage patterns
Communicating with the customer about their fuel levels and recent usage pattern
Using the usage patterns to pre-plan best delivery schedule to maximize the transportation values and assess market information to adequately time the delivery to capture best value to the customer

In a time where 20 cent swings in market activity is quite the norm now, it is critical to be tied to market news and activity to ensure strong customer value and satisfaction.

Surveying the local supply picture and ensuring the driver will be able to be adequately loaded so the driver does not have to waste time hopping between terminals
Delivering the fuel safely and effectively in a window that works well for the customer and the expected daily/nightly site traffic
This is a great program to free up a tedious task with staff that has many other daily responsibilities and fuel may not be at the top of the list on a given day.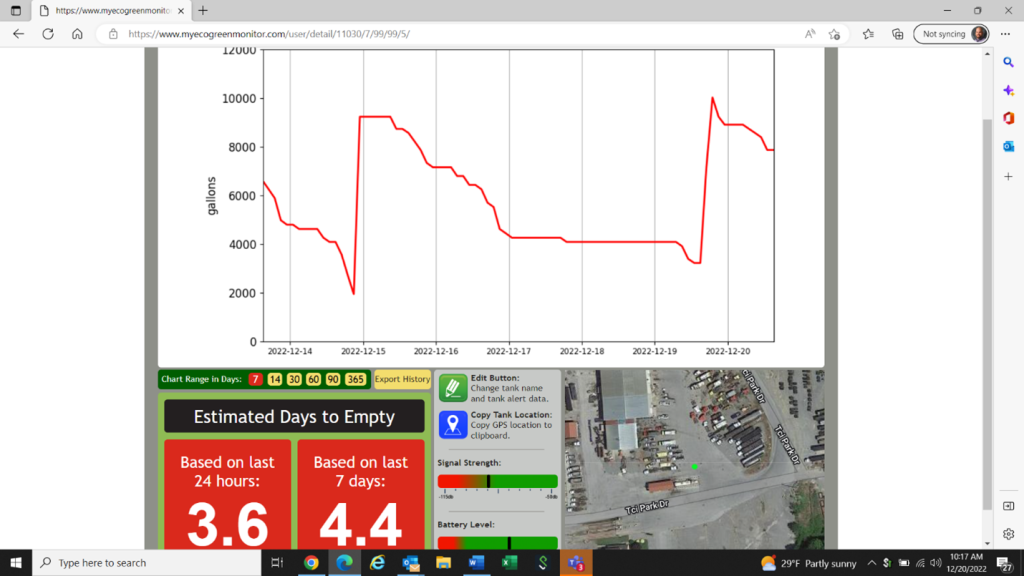 It includes:
Historical pattern
Daily usage
Day until empty
Actual inches and volume reading at the top of the screen
Signal strength and battery level of the monitor
GPS location on the tank
Give Guttman Energy a call today and see how we can be of service for you and your business.