If you have followed the news, shopped online, or stepped foot into a brick-and-mortar store lately, you may have heard that we are in the midst of a global supply chain crisis. Our international commerce infrastructure has been resilient to discrete challenges in the past, but this time, there are several different issues feeding into each other to create a disruptive synergy impacting industries from automotive to grocery.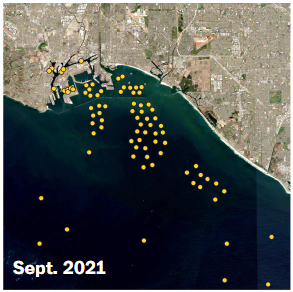 As with seemingly everything lately, the origins of the current acute disruption can be traced back to COVID-19's appearance. With so many shoppers in the western hemisphere being paid to stay home in 2020, online shopping volume exploded. Roger Guenther, executive Director of the Port of Houston, explains in an NPR interview, "What you're seeing at our port and a lot of other ports across the nation is this surge in imports is really putting a strain on the supply chain…It's filling up our terminals, filling up all of our extra space. The container terminals are becoming the warehouse for all these goods."
A surge in imports wouldn't normally be such a troubling development, except it happened to coincide with an acute shortage of CDL truck drivers. Additionally, a separate but related production crisis in the semiconductor industry has caused a similar shortage of class 8 trucks for CDL drivers to operate. Even if you are a firm with enough qualified drivers and enough trucks for them to drive, there is an additional shortage of the specialized chassis needed to haul shipping containers. Per Randall Morris, COO of Canal Cartage Company, "We probably have about 250 (chassis) on order that have been on order for the last year, and they just can't produce them fast enough."
Local governments are doing what they can to ease regulations and keep things moving. In Ohio, Governor Mike DeWine has increased the weight trucks are allowed to haul without an additional permit from 80,000 pounds to 90,000. DeWine reasons that less time spent on paperwork will translate to more time on the road moving shipping containers. Governor Gavin Newsom in California has similarly permitted an increase to 88,000 pounds through June 30th of 2022. Also in California, the city of Long Beach has doubled how high businesses are allowed to stack shipping containers in their yard, from two units to four. The Port of Long Beach also began shifting to a 24/7 operating schedule in an effort to clear their backlog, although port officials report that few truckers have taken advantage of the extra hours.
Private companies with the financial means to do so have also entered the solutions fray. Target and Wal-Mart, known much for their retail locations than their navy, have begun chartering their own container ships to give themselves autonomy over which ports to unload in. Margaret Kidd, program director of Supply Chain & Logistics Technology at the University of Houston, agrees with their decision to seek alternative unloading locations: "What we really need to see is supply chain managers diversifying their ports of entry for imports," she says. "I mean, it's a classic risk mitigation strategy. Texas gulf coast ports, southeast Atlantic ports, Florida ports are all natural choices."
With Christmas on the way, the impact (or lack thereof) of these moves will soon be apparent to shoppers everywhere.
Sources:
Waiting on that holiday gift from your online cart? It might be stuck at a seaport
Ohio Governor Reinstitutes Pandemic Era Order Easing Oversized Load Permitting
California Increases Truck Weight Limits to Ease Port Snarls
To clear supply-chain jams, Target charters its own cargo ship
City of Long Beach allows logistics companies to stack containers higher
Satellite imagery shows the scale of the traffic congestion at the ports of Los Angeles