The battle of the bulls and the bears ensues as we try to determine if the right price for WTI is above or below $50/barrel. All the while we're watching the latest storm to be named today off the western coast of Africa.
Refinery demand for crude continues to bolster prices as OPIS reported today that Motiva's 635,000 barrel per day refinery in Port Arthur, TX has upped running capacity to 50%. This crude demand is needed to boost refined product supplies, especially of distillates as we start heading into the colder months.
More production of distillates will be required as Reuters stated that U.S. diesel supplies shrank this summer for the first time ever. High export demand, particularly from South America, has contributed to us heading into the winter season with the lowest amount of distillate supply in 3 years and 5.2% below the historical average. The Hurricane Harvey hangover will also have an effect on the supply situation as downtime from the refiners resulted in lower production levels. Therefore, if we have a colder than average winter or another supply disruption, distillate supply tightness could linger when it really matters.
Speaking of supply disruption, Tropical Depression Fourteen is expected to be upgraded to Tropical Storm Lee today. This storm is located south of Cape Verde, off the western coast of Africa. This will be one to watch with the expected trajectory illustrated below. Let's remember that the Atlantic Hurricane season typically runs through November 30th, with the peak activity running through September.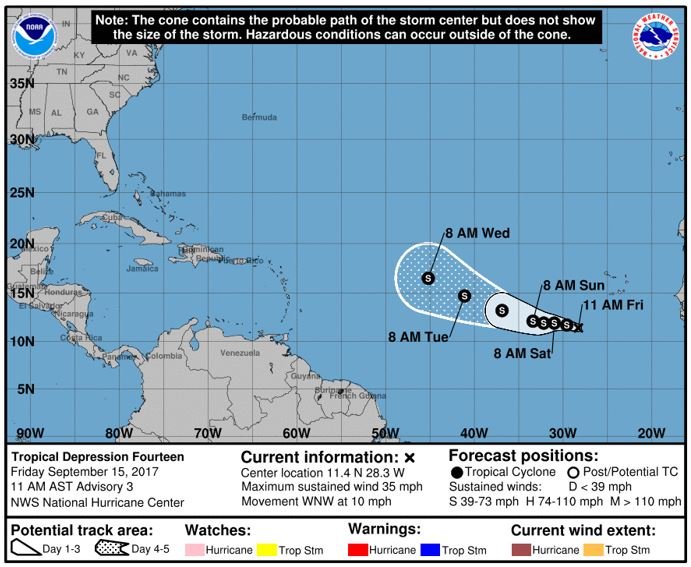 Tropical Storm Jose is still generating some concern along the U.S. Eastern Seaboard. Accuweather expects it to fluctuate between a Tropical Storm and Hurricane over the next several days. Landfall in the U.S. seems unlikely, but rough surf generation could be problematic for coastal regions ranging from Florida to Massachusetts.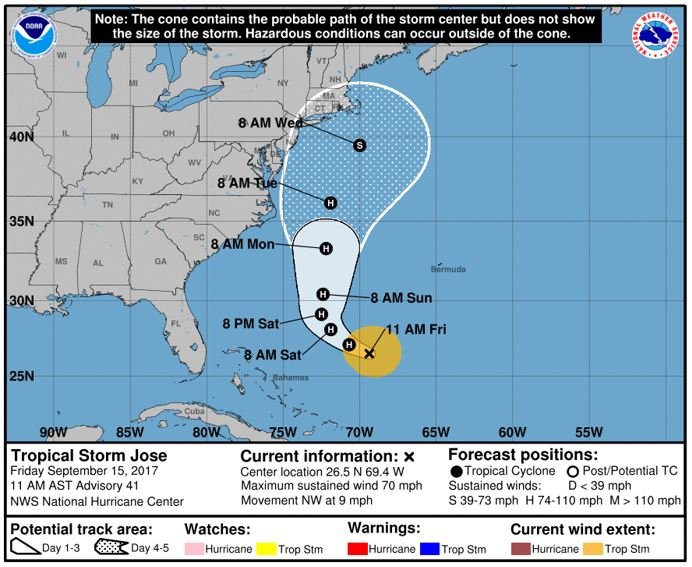 October WTI currently trades up $0.03 to $49.92/barrel, RBOB is leading the charge up $0.0311 to $1.6598/gallon, and ULSD is higher by $0.0181 to $1.7956/gallon.