It is profit-taking Friday as front-month WTI crude decisively breaks below $50/bbl despite Tropical Storm Nate shutting down Gulf of Mexico oil production as it eyes the U.S. coastline.
WTI crude is trading lower by $1.63 to $49.16/bbl, wiping out gains for the past three weeks as traders take profit before Tropical Storm Nate is due to strengthen into a Hurricane and strike the Gulf Coast Sunday. Reuters reports that as of yesterday, 14.6% of U.S. Gulf of Mexico oil production was offline equating to about 254,000 barrels per day. In Louisiana, Shell was reducing production at its 225,800 barrel per day Norco refinery and Phillips 66 is considering shutting down the 247,000 barrel per day Alliance refinery. There are still a number of refineries that have not commented on their actions or taken action just yet as they await the most up-to-date forecasted path before the weekend.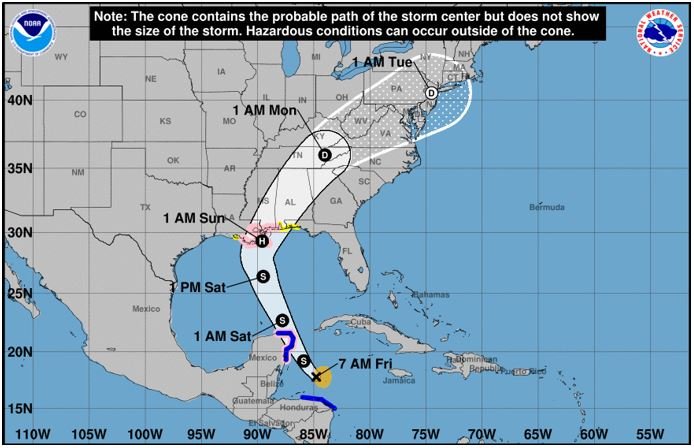 Traders believe this storm will have the most effect on the gasoline market. If it strikes these Louisiana-based refiners and shuts them down, we'll obviously have a supply issue. However, forecasters expect Nate to be a Category 1 Hurricane at land fall and pass right through and not linger like Harvey. It may just dampen gasoline demand in the Southeastern states it affects and thus lower prices. This would in turn lower the November gasoline crack spread from its historic highs. Last print in the November gasoline crack is around $16 off $3 from its most recent highs. The continued lack of demand may lead to another leg down on this crack which will bring gasoline prices down further relative to the price of crude reflected in the chart below.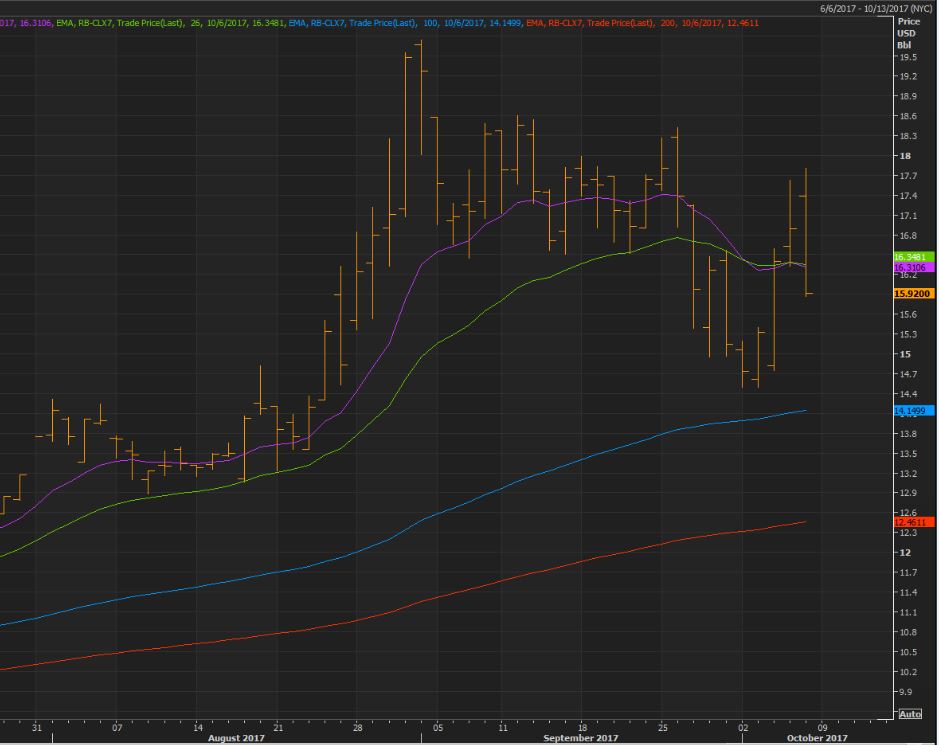 In other news, President Trump intends to decertify the Iran nuclear deal. This means that sanctions may be re-imposed on Iran. We shall see if that includes banning oil exports. However, Iran has a history of selling its oil on the black market, so it's difficult to quantify this effect on oil prices. Trump also said yesterday to reporters when encircled by his military chiefs that "maybe it's the calm before the storm." This may have been what prompted the RIA news agency report that cited a Russian lawmaker, Anton Morozov, on Friday saying with regards to North Korea "they are preparing for new tests of a long-range missile. They even gave us mathematical calculations that they believe prove that their missile can hit the west coast of the United States." This along with Tropical Storm Nate are certainly developments to watch.
November RBOB currently trades lower by $0.0601 to $1.5513/gallon and ULSD is down by $0.0429 to $1.7434/gallon.