With the current stimulus relief package that was put in place at the start of the pandemic set to expire today, Congress has yet to pass another relief package. After last efforts to extend the $600 stimulus failed Thursday and the Senate gone for the weekend, millions of Americans are left with much uncertainty moving forward.
Nancy Pelosi, the house speaker held meetings yesterday with Senate minority leader, Chuck Schumer and White House Chief of staff, Mark Meadows, who passed the bill in May to maintain the jobless benefits into 2021. The meeting ended by rejecting the Trump administration's offer for a one-week extension. Pelosi commented, "What is a one-week extension good for? A one-week extension is good if you have a bill, and you're working it out." Meadows tweeted, "Tonight, once again, the White House offered a temporary extension of needed unemployment assistance – which expires tomorrow. And again, Chuck Schumer and Nancy Pelosi said no."
As Congress continues to find some common ground among the stimulus package relief, statistics are showing the economy is experiencing damage from the coronavirus as it continues to spread across the country. Yesterday it was reported that unemployment claims increased 1 million to 17 million, an increase for the second straight week. The economy also suffered with the U.S. gross domestic profit (GDP) falling by 32.9% in the second quarter. This is the largest drop since 1921 with neither the Great Depression nor the Great Recession seeing a slump this significant on the economy.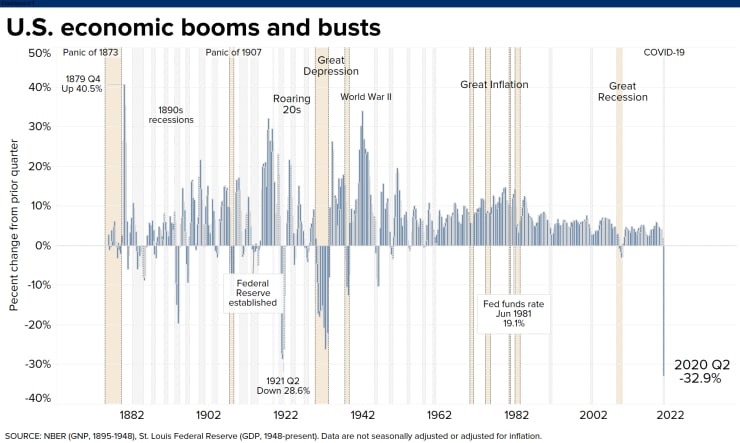 Both parties have many issues that need resolved, with unemployment insurance extension being one of those items. Democrats want to keep the $600 stimulus on top of what states are paying into 2021. Republicans want to cut the stimulus to $200 per week through September and then set it at a 70% wage replacement. Both parties are trillions of dollars apart in their proposed stimulus bills.
President Trump and Treasury Secretary Steven Mnuchin tabled the idea to pass a short-term deal that would extend unemployment insurance and federal eviction moratorium. Both Pelosi and Schumer shot the temporary deal down.
As of next week, the Senate will begin their August break, however members will be recalled on 24 hours' notice if a deal is reached and can be voted on.
https://www.bloomberg.com/news/articles/2020-07-31/congress-heads-for-weekend-with-no-deal-on-virus-relief-in-sight?sref=rl5GZj6e
https://www.cnbc.com/2020/07/30/coronavirus-stimulus-updates-relief-bill-talks-continue.html
https://www.cnbc.com/2020/07/30/us-gdp-q2-2020-first-reading.html