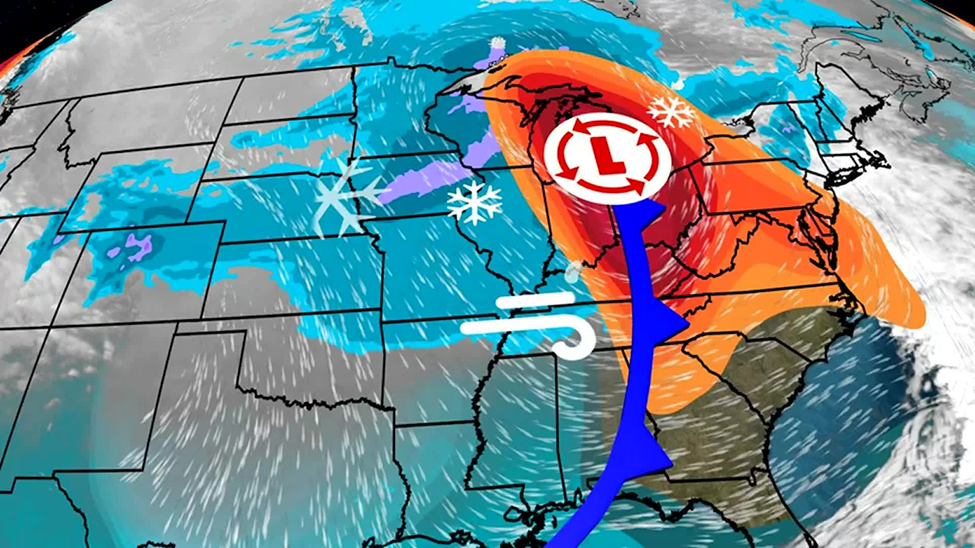 The Marcellus and Utica shale basins, the U.S.'s top gas-producing regions, saw record drops in natural gas output over the past week as Winter Storm Elliot smashed through Pennsylvania and Ohio. The storm wreaked havoc, freezing wells and equipment and creating a multitude of mechanical issues at critical pipeline infrastructure. The extreme weather resulted in a 27% drop of supply in the Appalachia region, equivalent to 9 billion cubic feet. The decline in supply was the steepest drop on record since 2013, according to Bloomberg. Pennsylvania's production fell by 20%, while Ohio saw production more than cut in half.
Elliot extended more than 2,000 miles from Texas to Quebec. The massive winter storm didn't just affect natural gas production but cut off power to over 1.5 million households and ruined travel plans for millions more. Flights cancelled during and in the wake of Winter Storm Elliot totaled in thousands, creating a system wide meltdown for Southwest Airlines.
Gas pipelines are continuing to report issues this week, which has further restricted the ability of the basin to produce natural gas. Reports on Tuesday, December 27, showed natural gas production was still significantly below where they should be compared to past weeks. Natural Gas Intelligence, showed that American natural gas output was still around 80-86 billion cubic feet per day, well below the 100 Bcf/d production of the past weeks and months.
The drop in natural gas production worsened issues at the grid, constraining supply for gas-fired power plants. All culminating as power demand surged during the storm, straining electricity systems across the path of the storm. According to Oilprice, "The Tennessee Valley Authority and Duke Energy implemented rolling blackouts in the Tennessee Valley and the Carolinas ahead of Christmas Eve to maintain grid stability."
https://www.bloomberg.com/news/articles/2022-12-27/record-output-slump-for-top-us-gas-basin-worsened-power-chaos?srnd=economics-v2&leadSource=uverify%20wall
https://www.bbc.com/news/world-us-canada-64083129
https://www.reuters.com/world/us/deep-freeze-grips-us-winter-bomb-cyclone-looms-ahead-holiday-weekend-2022-12-23/