The market closed up across that board yesterday. September Heating Oil settled up $0.0332 to $1.6244/gal, September RBOB settled up $0.0281 to $1.6189/gal, and WTI Crude settled up $0.77 to $48.41/bbl. Distillates were trading up early this morning, but have softened since and are now trading lower. As for the gasoline side, the front month is still trading higher as forward months are slowing losing ground. One reason the market is losing some of its momentum is due to the U.S. Dollar strengthening ahead of an annual meeting of central bankers held in Jackson Hole, Wyoming. This meeting could hint at changes in the monetary policy going forward.
All eyes, however, are on the most heavily weighted headline out there. "The strengthening of Tropical Storm Harvey." Harvey may develop into, at the least, a Category 1 hurricane, which is concern for a more cautious preparation across the refinery industry. A hurricane warning has been issued for the Texas Gulf coast as the storm moves closer to land. Harvey is expected to make its landfall late Friday night or early Saturday morning. If the storm does turn into a hurricane along the Texas Coast, it will be the first time since 2008 that a hurricane has stuck Texas. Take notice of the gasoline crack spreads, up 12%, due to the expected loss of refinery output if Tropical Storm Harvey does the damage that it is expected to do.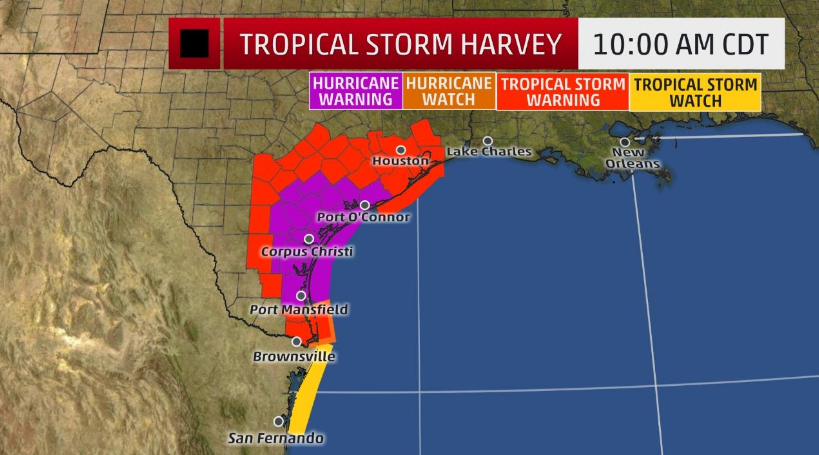 On an inventory note, U.S Oil production is still cranking higher, despite the draws in crude inventory, hitting a 25-month high at 9.53 million barrels per day.