"Remember the hours after September 11th when we came together as one to answer the attack against our homeland. We drew strength when our firefighters ran upstairs and risked their lives so that others might live; when rescuers rushed into smoke and fire at the Pentagon; when the men and women of Flight 93 sacrificed themselves to save our nation's Capital; when flags were hanging from front porches all across America, and strangers became friends. It was the worst day we have ever seen, but it brought out the best in all of us." – Senator John Kerry
As Hurricane Irma rips through the state of Florida and everyone continues to recover from Hurricane Harvey, there is continued coverage of all of the tremendous amount of support that is pouring in from around the country. Fuel companies and their trucks, from across the country, are springing into action and driving fuel, from wherever they can, in order to support the residents of Florida and surrounding states. The extreme shortage of fuel has also caused President Trump to temporarily lift the Merchant Marine Act of 1920, also known as the Jones Act. The Jones Act is responsible for requiring any vessels, transporting goods, to be majority U.S. owned, U.S. built and U.S. flagged. The Jones Act is scheduled to be waived until September 15th, but could get an extension if needed, and will allow foreign flagged vessels to make deliveries of as much gasoline and refined products as possible. Thomas Bossert, President Trump's Homeland Security Advisor, has been reported saying "As many tanker ships as possible are being brought to bear on the effort to bring as much fuel as possible in to help Floridians regardless of their flagged vessel status and that's the best we can do."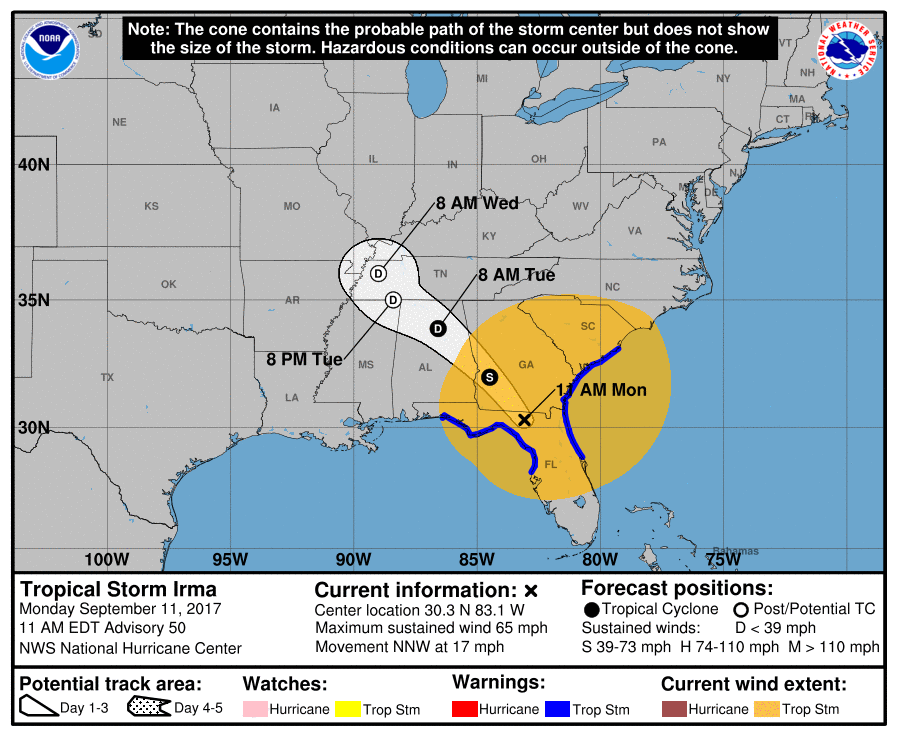 Irma, currently a Category 1 hurricane, is expected to be downgraded to a tropical storm as early as tomorrow. Although Irma will soon be a tropical storm, the damages from heavy rains, flooding, and 65 mph strength winds, will still continue to have impact on Florida, and soon, to surrounding states in the Southeast, for days to come. This destructive force continues to have an effect on the oil industry as we are seeing more bearish demand influence on the market today. With many Southeasterners fortified in their homes, hotels, or any safe haven available, the demand for refined products has begun to dip for the time being. The initial surge of evacuations sparked a spike in fuel demand when many Floridians and Southeasterners made preparations to flee the path of Irma. Now, as the storm continues its trek north, more and more residents are waiting out the storm before starting the long process of rebuilding and resuming day to day life.
Goldman Sachs is reporting that demand within the oil market is likely to decrease by nearly 900,000 barrels per day in the month of September due to both Hurricane Harvey and Irma. Goldman goes on to say "Irma will have a negative impact on oil demand but not on oil production or processing. Harvey's negative impact on demand will remain larger, however, given the large concentration of energy-intensive petrochemical activity in its path." In order to attempt to counteract the bearish effects of the hurricanes, the Saudi Energy Minister did not waste any time in putting out rhetoric that OPEC is attempting to extend oil cuts beyond March 2018. On top of that, Rosneft, Russia's lead oil producer, is predicting oil prices to hover around $40-$43 a barrel in 2018, based off of current oil inventories around the world. Iran will be of no help to those inventory levels. Iran has just announced that within 5 years they will be reaching 4.5 million barrels per day in production. That is a jump from their current levels of 3.77 million barrels per day.
The last two topics to keep an eye on are the U.S. rig counts and the relationship between the U.S. dollar and oil prices. Last week Baker Hughes reported that oil rigs decreased by one rig, bringing the total to 756. Natural gas rigs increased by four total rigs and brought the new total to 187. Watching the U.S. dollar is important due to the inverse relationship between the benchmark currency and crude prices. The dollar has seen some tough times over the past three months. In June, the dollar hit a peak at $1.1134 vs. the Euro, but since then, there has been a decrease in the greenback of nearly eight percent. Also during that time frame, crude has increased by nearly 16%. The market will most likely continue to be extremely volatile with so many factors weighing on it. With the hurricane season in full swing, Hurricane Jose, trailing behind Irma, has lost some strength but is still humming along as a category 2 hurricane. Based on the information from the National Hurricane Center, as of right now, there are no current coastal watches or warnings in effect.