Flu season in the Southern Hemisphere begins in April, and people braced for the impact of the flu and COVID-19. However, the months came and went while the flu seemed nonexistent. Experts believe that mask wearing, travel restrictions, social distancing and school closures contributed to the decreased amount of cases. Those practices that were implemented for COVID are also effective in combating the flu. South Africa, Australia, New Zealand and South American countries are reporting similar findings. These countries put lock downs and strict travel restrictions in place. New Zealand was able to go nearly 3 months without a COVID-19 case while other countries in the world were spiking.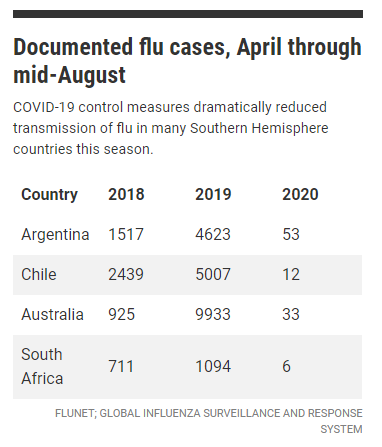 In the US, experts are skeptical of what can happen. While the southern hemisphere had greater restrictions and precautions, wearing a mask in the US is still a controversial issue. In previous years, the rate that people receive the flu vaccine in the US and Europe usually hovers at less than 50%. While the flu is deadly on its own, we have a vaccine and documented history in treating it. The vaccine both reduces the risk of getting sick and can also help to lessen the severity of the illness. Reduced hospitalizations from the flu allow health care providers to focus on severe COVID cases. The CDC is hoping to increase the percentage of Americans who get their flu shot, but with social distancing and lock downs in place, people are hesitant to go to a doctor's office or pharmacy.
There is one downfall to a less severe flu season. "The Southern Hemisphere dodging the flu bullet might create even one more blind spot: Less circulating influenza virus means fewer clues about which genetic variants are most prevalent and likely to contribute to the next flu season."[1] Since the final contents of the 2021 vaccine must be decided in September, the chances of a less effective vaccine are multiplied. Even though the sample size has decreased, researchers still have influenza cases to use in analysis of what the put in the 2021 vaccine. As the Northern Hemisphere prepares for an unprecedented flu season, experts hope that we follow the same trend as the south.
[1] https://www.sciencemag.org/news/2020/08/how-will-covid-19-affect-coming-flu-season-scientists-struggle-clues