Public colleges and universities are not immune from the financial distress in the wake of Covid-19. "Public colleges and universities across the nation have had to spend enormous sums of money to support their students through the pandemic; switch to online education; and issue refunds to students for parking, housing, and dining services for the period of time when they were not on campus in the spring."[1] While there is the CARES Act to provide funding for these institutions, the funding verses the lost revenue is leaving a huge divide.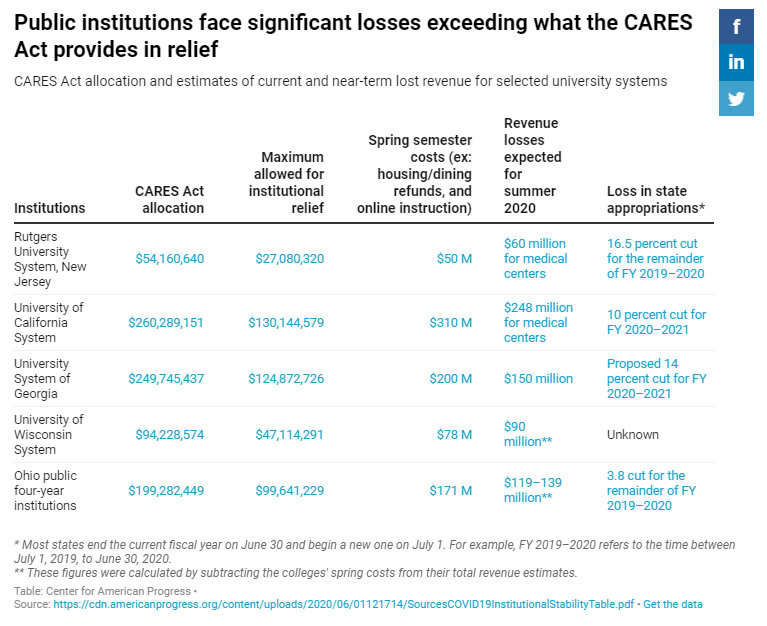 Within our operating area, Ohio public institutions could potentially be left with a loss of over $200 million. If students do not return to campus for the fall, the number will increase. As we muddle through the current surge in Covid-19 cases in the U.S., many students are hesitant to return to campus in the fall. Free Application for Federal Student Aid (FASFA) filings are showing 350,000 less students have filed for the upcoming academic year. Colleges and universities in the U.S. are forced to make choices about their academic programs. Some of the most recent examples are:
University of Alaska – Will cut 39 academic departments. Also, will no longer offer degrees in sociology, creative writing, chemistry and environmental science.
University of Akron – Hiring freeze and academic/athletic cuts.
Elmira College (New York) – Reducing staff by 20% and academic/athletic cuts.
Part of the unseen economic hardship will be related to international students. In the US, students from China and India account for over half of the international student population. With international travel being reduced to prevent the spread of Covid-19, many students are left stranded and uncertain.
Even before the pandemic, public institutions faced challenges associated with cuts to state funding for higher education. Private institutions began to cut liberal arts programs to focus resources to other majors.
As academia evaluates on-campus verses digital learning, the world is facing an unprecedented fall semester. In the digital age, traditional colleges and universities must evaluated their offerings to ensure students can continue or complete their degrees online.
[1] https://www.americanprogress.org/issues/education-postsecondary/reports/2020/06/11/485963/mounting-peril-public-higher-education-coronavirus-pandemic/