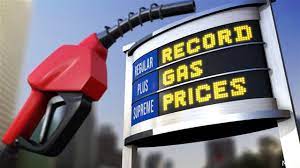 The price of gas and diesel has reached an all-time high today. According to AAA, the national average for regular unleaded is $4.91 a gallon, and $5.68 a gallon for diesel. Over the past week, the national average price of regular unleaded has increased 29 cents a gallon, and the national average of diesel has increased 16 cents a gallon. The national average has been steadily rising over the past month, setting 28 records in the last 29 days. As of yesterday, 10 states average price for gas is over $5 a gallon. Experts believe gas will reach $6 a gallon sooner than later, and everyone wants to know, what's the root cause for all this pain at the pump?
There's no individual root cause for the record-setting fuel prices, but it is a multitude of reasons. Russia's invasion of Ukraine is one of the biggest reasons because Russia is one of the largest oil exporters on the planet. The United States announced a formal banned on all Russian energy imports, and the European Union announced a ban on imports of Russian oil by ship, which represents 2/3 of their oil imports. Europe purchases approximately 60% of Russia's oil in 2021, and with the current sanctions on Russian Oil, Europe must seek fuel from different markets to satisfy their demand. In turn, lowering the supply for other countries and increases demand and price.
In 2020 oil prices plummeted during the pandemic with less travel, causing crude to be briefly trading at a negative price, in which OPEC and its allies agreed to slash production to support the price. With drivers back on the road and the pandemic in the rearview, OPEC is still reluctant to presume pre-pandemic levels of oil production and with tougher environmental regulations on oil production hindering their decision.
The only thing keeping the price of oil down over the past month was China's lockdown. Now with the lockdown being uplifted and the major cities back up and running, and the start of summer driving season, the demand will continue to increase, and supply will diminish and continue to drive up the price. If the oil market has shown us anything over the past year, we should expect the worst but hope for the best.
If you're not already enrolled in a Fleet Fuel Card program for your business, there's no better time than now to start looking at how Guttman Energy can help you with savings and real-time usage and reports.  Click here to learn more.
Citings:
https://www.cnn.com/2022/06/06/energy/record-gas-prices-causes/index.html
https://www.npr.org/2022/06/06/1103318977/states-highest-gas-prices
Diesel Surges 16.4¢ a Gallon to Record $5.703 | Transport Topics (ttnews.com)