As natural gas production continues to increase through the Appalachian region, methane emissions are on the decline. As companies continue to produce, they are finding safer and more environmentally sound ways to get natural gas out of the ground. Methane is the primary component of natural gas, and if leaked into the atmosphere, absorbs the sun's heat. It is considered a greenhouse gas like carbon dioxide. Greenhouse gases, once in the atmosphere, act like an insulator around the earth. The absorb heat while still letting light through.
One of the biggest threats to methane escaping into the atmosphere is leaks in pipes on sites. While the idea of methane emission reduction seems implausible with increased production, the EPA is able to quantify the reduction. From 2011-2017, Appalachian production has increased by 349%. "What's more, a national inventory by the U.S. Environmental Protection Agency showed that, in 2017, greenhouse gas emissions in general were at their lowest level in 25 years and methane emissions in particular are down 18.8% from 1990."[1]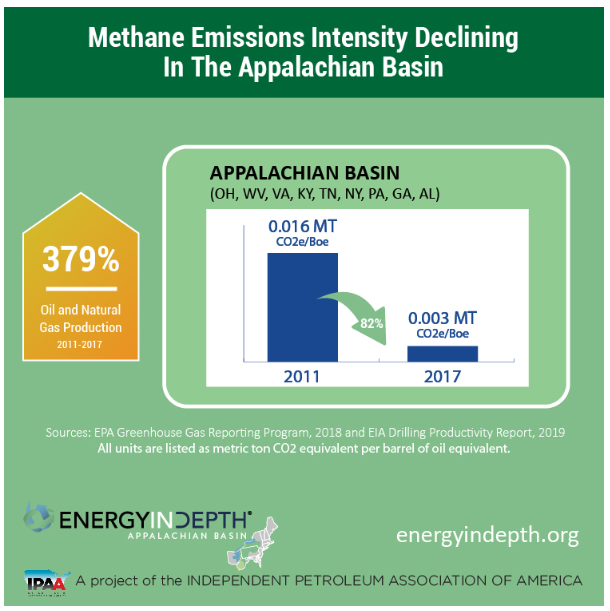 "Pennsylvania, the nation's No. 2 natural gas producer, has an estimated 80,000 conventional oil and gas wells and about 10,651 active unconventional gas wells, according to DEP."[2] The oil and gas industry is made up of a mixture of conventional and unconventional drilling. Conventional drilling involves drilling vertically down and pumping product to the surface. Unconventional drilling utilizes techniques of horizontal drilling and fracking to gain access to untapped resources.
The amounts of greenhouse gases in the atmosphere have been increasing since the Industrial Revolution. "It's leading to changes in temperature and chemistry that are happening much faster than natural ecosystems and built infrastructure can adapt to without help."[3] As new technologies are developed to reach natural resources, a greater amount of attention needs to be placed on the processes and equipment used. The statistics support the claims companies are making that they are putting greater emphasis on reducing their footprint. The data still needs to be tracked and measured over time, but progress is being made in the right direction.
[1] https://triblive.com/news/pennsylvania/areas-methane-emissions-fall-despite-increase-in-gas-production/
[2] https://triblive.com/news/pennsylvania/areas-methane-emissions-fall-despite-increase-in-gas-production/
[3] https://www.massaudubon.org/our-conservation-work/climate-change/why-we-care/greenhouse-gases