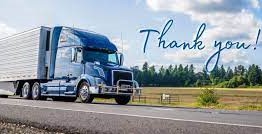 National Truck Driver Appreciation Week is an important time for Americans to honor all professional truck drivers for their hard work and effort to keep our economy moving. In the U.S. there are 3.6 million men and women that help make sure products get to the right destination in a timely and safe manner.
To kick off National Truck Driver Appreciation Week, some of the major truck stops are turning it into a month-long event. National Truck Driver Appreciation Week begins September 11 to 17 when drivers can earn loyalty points, enter to win sweepstakes and prizes, free food and drinks, discounted amenities, events, cookouts, and more.
Love's Travel Stop is celebrating September 12 to16 with fresh food and drink deals along with free oil changes. Discounts on Amarillo Supply Co. throughout September and October, along with giving away 23.5 million in My Love Rewards, totaling $235,000 in rewards.
At Pilot Flying J, drivers can receive up to three free drinks during each week of September through the end of October by using the Pilot Flying J Rewards program app. Drivers can earn up to 500 bonus points in September through in-app challenges and discounts on deli food throughout September, including 50% off deli food during National Truck Driver Appreciation Week (September 11th-17th).
Travel Center of America is holding a month-long sweepstake for all UltraONE members and giving away daily prizes including 1,500,000 UltraONE loyalty points, an Indian Scout Bobber Motorcycle, a Rolex watch, two airline tickets to anywhere in the United States, and much more. Drivers will receive double points on September 16th. Also, showers will be available for 50% off, and additional specials will be found on the TruckSmart app from September 14 to 18. At select TA, Petro and TA Express locations they will be providing free mid-trip inspections and window washing, cookouts, health and wellness checks.
Thank you to all the truck drivers for your daily sacrifices, we appreciate you and all your hard work and effort. Our daily lives wouldn't be the same without you! Enjoy your week next week and keep on trucking!
National Truck Driver Appreciation | TravelCenters of America (ta-petro.com)
TA appreciates truckers throughout September | Truckers News
Truck stop chains announce Truck Driver Appreciation deals (cdllife.com)