As the world looks to become greener, the travel industry continues to look for alternative fuel sources. This week, Airbus unveiled their new concept for hydrogen powered commercial airliners, which would be the world's first zero emission commercial aircraft. They released three visual concepts that they hope to have in use by 2035. The three concepts that were released are the; turbofan design, turboprop design and a blended-wing body. Guillaume Faury, the CEO of Airbus, said "This is a historic moment for the commercial aviation sector as a whole, and we intend to play a leading role in the most important transition this industry has ever seen. The concepts we unveil today offer the world a glimpse of our ambition to drive a bold vision for the future of zero-emission flight". He went on to discuss how the use of hydrogen has the potential to drastically reduce the industries impact on the environment.
Turbofan Concept
The turbofan design is the mid-sized and long-distance option, it will have a capacity of about 120-200 passengers with a range of over 2,000 nautical miles. This would make the turbofan the ideal design for any transcontinental travel. The engine for this would be a modified gas-turbine engine running on hydrogen as opposed to the traditional jet fuel combustion.
Turboprop Concept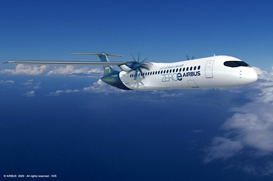 The turboprop design is the smallest of the three and has the shortest range. It will have a maximum capacity of 100 passengers and a range of over 1,000 nautical miles. This will run on the same engine as three turbofan aircraft.
Blended-Wing Body Concept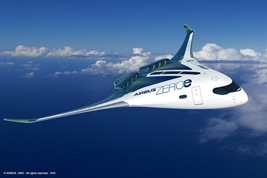 This concept is the prettiest and most futuristic of the three. This will have a maximum capacity of 200 passenger and should have a range similar to the turbofan concept. The aircraft will have many options for hydrogen storage and cabin layout with a wide fuselage.
One large issue that persists, is how to store such a volatile substance like liquid hydrogen during flight. Hopes of increased investments and research into alternative fuel sources quiet these concerns for now. With global aviation accounting for 2.4% of all emissions in 2018, it is not a surprise the airline industry is actively working to reduce their carbon footprint.