The hurricane season for the Atlantic Region runs from June 1st until November 30th.The bodies of water included in the region are the Atlantic Ocean, Caribbean Sea and Gulf of Mexico. The National Oceanic and Atmospheric Administration have reported that, "In total, the season produced 15 named storms, including eight hurricanes of which two were "major" (Category 3, 4 or 5). An average season has 12 named storms, six hurricanes, and three major hurricanes. The two major hurricanes last year were Florence and Michael which caused significant damage to the southeastern United States.
This year NOAA has predicted with a 70% confidence that there is "a likely range of 9 to 15 named storms (winds of 39 mph or higher), of which 4 to 8 could become hurricanes (winds of 74 mph or higher), including 2 to 4 major hurricanes (category 3, 4 or 5; with winds of 111 mph or higher). An average hurricane season produces 12 named storms, of which 6 become hurricanes, including 3 major hurricanes."
It would appear that NOAA is predicting a near-normal hurricane forecast for this year even with the warmer-than-average Atlantic Ocean. They will revisit their predictions in August just prior to the peak of the season.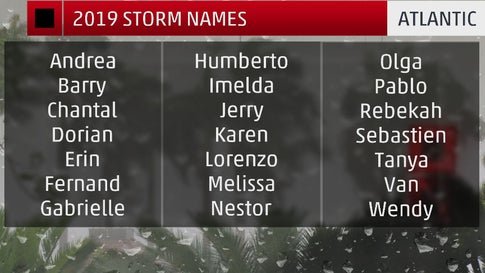 https://www.nhc.noaa.gov/climo/