With technology in commercial vehicles advancing continuously, will it be enough to prevent accidents through the harsh conditions this winter? Even though the existence of advanced driver assistance systems (ADAS) and automatic emergency braking (AEB) systems are present in most Class 8 vehicles, studies have shown that neither of these systems have explicitly studied the impact of icy road conditions to alleviate collisions.
According to Fleetowner, collision mitigation systems utilize radar, cameras, and sensors connected to an electronics control unite (ECU) to anticipate imminent collisions, in which case the system may reduce the throttle and apply the brakes while also providing in-cab alerts before intervening. What's important to understand is that the system will respond consistently regardless of whether road conditions are dry or slick. Because of this consistency, these systems are as likely as a driver to cause skidding, which in turn may trigger antilock braking systems (ABS) and stability control systems, however this may not eliminate the possibility of a crash.
Fred Andersky, director of demos, sales and service training at Bendix Commercial Vehicle Systems says, "Just like any safety technology, full stability is there to assist the driver- the driver is always in control of the vehicle. And it is important to remember that the system has limits: You can drive too fast and negate its benefit. But by building the collision mitigation technology on top of stability control which itself built on the antilock braking system, we're helping both drivers and the collision mitigation system keep control when brakes are applied."
Driver alerts are very critical to give them proper reaction time before a system intervenes. These alerts can help the driver take advantage of their ability to see farther, as well as steer the vehicle, both of which are not included in most of the collision mitigation technologies on the market today. Alerts help re-engage the driver, reminding them to brake or take other action to avoid an accident. Having both driver alerts and collision mitigation equipment such as ADAS and AEB systems, the roads may be a little safer this winter with advancing technology.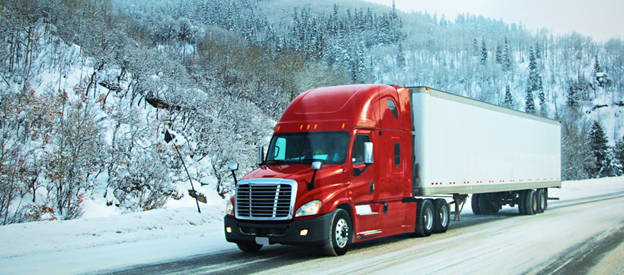 https://www.fleetmaintenance.com/equipment/safety-and-technology/article/21289414/bendix-commercial-vehicle-systems-winter-truck-driving-collision-mitigation-technology-on-slick-roads