October is here! As we begin the month, fall is in full swing with temperatures in the….80s?? As summer temperatures continue to linger on, we start to wonder about the winter forecast. While it is only a prediction, the National Oceanic and Atmospheric Administration (NOAA) is predicting a warm winter.
"When it comes to the winter weather forecast for the 2018-2019 season, the NOAA has reported that there is a 70% chance that we will have an El Niño winter season, meaning early predictions call for a warmer than average winter across the United States."[1] El Niño-Southern Oscillation (ENSO) is made up of both a warm and a cool phase that make a significant impact for weather changes around the world. NOAA predicts a 60 percent chance of El Niño impacting fall. El Niño is the natural warming of Pacific water while La Niña is the cold phase. The warmer air moving off of the Pacific prevents cold air masses from lingering over parts of the US.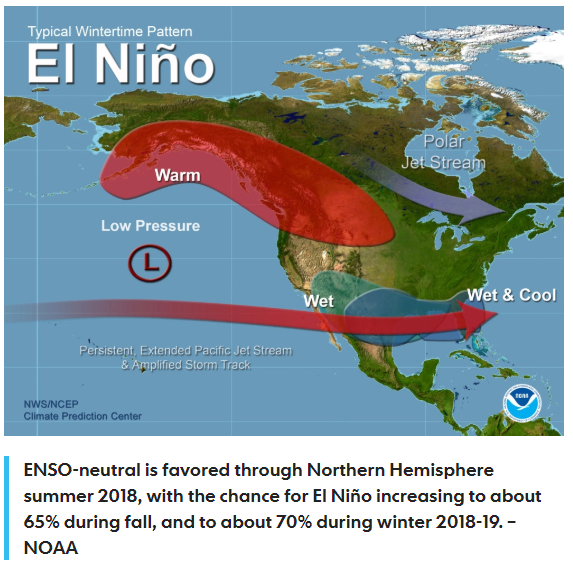 https://unofficialnetworks.com/2018/07/26/noaa-winter-weather-forecast-outlook-for-2018-2019/
The Old Farmer's Almanac has also predicted a warm winter for most of the country except in the Southwest. On the contrary, the Farmer's Almanac (yes, different than the abovementioned Old Farmer's Almanac) is predicting a cold, snowy winter. "Unlike the NOAA, which examines current and past weather patterns and analyzes computer models to make predictions, the Farmers' Almanac does not use modern forecasting techniques. To generate its outlook, it relies on a "set of rules" developed in 1818 that have since been adapted into a formula."[2] The formula is so secret, a person using the pseudonym "Caleb Weatherbee" uses the formula to make predictions.
Regardless of the forecast you think is right, realize that it is only a best guess. A warm winter is a trend for the entire season. Yes, it will get cold in the Northeast, yes we will have snowstorms, and yes we will still have days of "unseasonably" high temperatures.
If you are dreaming of a white Christmas, it might be just that – a dream.
[1] https://snowboarding.transworld.net/news/noaa-makes-winter-weather-forecast-for-2018-2019-season/
[2] https://www.washingtonpost.com/news/capital-weather-gang/wp/2018/08/30/this-years-farmers-almanac-calls-its-frigid-winter-forecast-flake-news-thats-about-right/?utm_term=.015054bea6ab