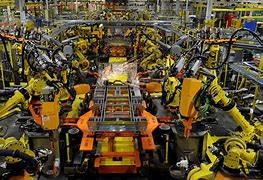 The Institute of Supply Chain Management (ISM) recently released their September survey of Supply Chain Executives. The Report gives a reading of 50.9% in the month of September 2022, a 1.9% dip from August 2022. A reading of 50 separate expansion and contraction, and the September result was weaker than the median projection of 52 in a Bloomberg survey of economists. The most recent reading is the lowest the Manufacturing sector has recorded since May of 2020, marking 28 consecutive months of expansion.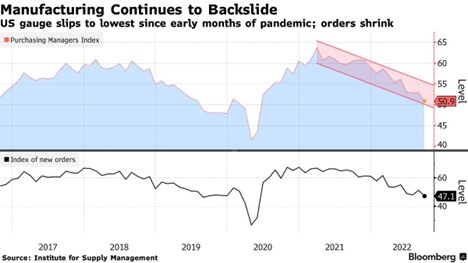 The purchasing group's Index of new orders dropped to 47.1 from the reported 51.3 of August 2022, the lowest level seen since the early months of the Covid-19 pandemic, which is an indication of softened demand. Consumer spending is settling, and the business investment in equipment has held The Chairman of the ISM, Timothy Fiore, recently released a report and stated, "the U.S. manufacturing sector continues to expand, but at the lowest rate since the pandemic recovery began." Fiore also noted that "Following four straight months of panelists' companies reporting softening new order rates, the September index reading reflects companies adjusting to potential future lower demand."
Nine industries reported growth in September, the strongest among them being nonmetallic mineral products, plastics and rubber products, and miscellaneous manufacturing. An executive in the plastics and rubber products industry noting, "Business is still strong; raw materials are becoming more available, and some raw material prices are falling." A shifting trend among consumers is using their flexible income toward services instead of goods, which led manufacturers to catch up on their backlogged inventory, which resulted in the ISM's backlog measure dropping to 50.9, the lowest measure since 2020.
With a steady decline made apparent over the last 5 months of surveys, the executives commented that many of the supply chain struggles that have be prohibiting their growth since the beginning of the pandemic have not gone away, and as recessionary concerns mount across the board, time will only tell if this is just a short term dip or if more of the same is to be expected in the coming months.
Economic Indicators Continue to Drop, Signaling Possible Recession | Economy | U.S. News (usnews.com)
U.S. Factory Activity Slows in September 2022 – IndustryNet®
US Manufacturing Downshifts as Orders Shrink, ISM Data Show – Bloomberg