After 2020's unpredicted decline in oil prices and subsequent response by OPEC+ to cut oil production as means to buoy oil prices, the world's largest exporter Saudi Arabia, plans to reverse its position and increase its production in the coming months. This comes as WTI oil prices have traded to as low as negative $40/barrel back in April 2020, to currently trading at $60.42/barrel. Earlier this month OPEC+ leaders said they would cut production by one million barrels per day, with efforts to raise prices during the months of February and March.
With plans for OPEC and Russian groups to meet sometime next month, the oil marketers do not foresee productions to increase until April, if the Saudi's continue with their commitments to existing production cuts through the month of March.
Saudi Arabia's energy minister said in a conference yesterday, "We are in a much better place than we were a year ago, but I must warn, once again, against complacency. The uncertainty is very high, and we have to be extremely cautious."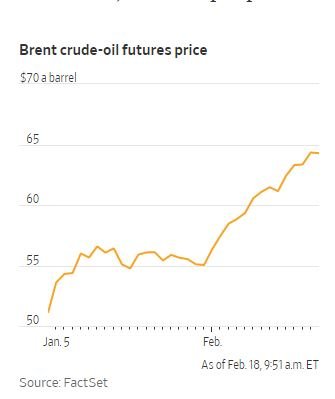 Oil prices have been steadily recovering over the last several months, and with vaccination progress, world markets may have high hopes that an economic recovery is right around the corner. Recently there has also been pickup of oil demand in China and India.
"A Saudi increase in production… makes perfect sense given the tightness that is starting to emerge in the market. The market will probably take it quite well," said Ole Hansen, head of commodity strategy at London based Saxo Bank.
Even though OPEC and other producers have been trying to increase prices, it is likely when they meet on March 4th, they will maintain existing production curbs. However, OPEC+ has plans to increase production based on their own quotas. A production increase would also make sense because if WTI prices are sustained above $60/barrel, it provides an opportunity for American shale producers to hedge production on the forward curve. This could help lead to a recovery in oil production in the United States which is something OPEC+ certainly does not want. This adds to the likelihood that an OPEC+ oil production hike would make sense within the next 1-3 months.
Plans to maintain outputs of 7.1 million barrels per day will continue through the rest of the month. Russia and Kazakhstan both agreed that they would oppose keeping overall production flat, have recently been granted an increase in production output of 75,000 barrels per day, combined to protect their market share.
OPEC is forecasting world oil consumption to increase by 4.75 million barrels per day in Q4 of this year with an expected recovery on the horizon in the coming months.
https://www.wsj.com/articles/saudi-arabia-set-to-raise-oil-output-amid-recovery-in-prices-11613570923
https://www.wsj.com/articles/saudi-arabia-russia-reach-compromise-on-opec-plus-production-plan-11609857544?mod=article_inline