Have you ever seen a vehicle on the side of the road, with its 4 way flashers on? Usually the first thing you think of is do they need help, or what happened to make them pull over?
Today being stranded on the roadside can be very dangerous, especially with speeding cars and trucks that pass while you sit inside your vehicle literally inches from the highway. While we think we are safe inside, picture the first responder's, tow truck drivers and the police who are standing beside your vehicle while the traffic passes one car after another traveling 65-70 MPH. The picture is not pretty especially if that truck or car does not leave enough space, this could end in a horrific crash.
All fifty states have implemented "Move Over" laws. In some states, the details are different but assume if you see a vehicle stranded on the side of the road with lights or emergency flashers on you are required by law to move over and slow down. Many law enforcement officers have been killed since 1997; in fact, more than 150 officers have been killed on America's highways while assisting stranded motorists and their vehicles on the side of the highway. The National Highway Traffic Safety Administration will continue to raise awareness and has an active campaign called "MOVE OVER IT' S THE LAW". In the state of Pennsylvania, you can be sited for not moving over if you see a vehicle that has emergency lights on and is parked on the side of the highway.
Every driver should follow this simple rule, if you see a vehicle on the side of the road, with flashing lights, slow down, move over, this is the courteous thing to do. "Move Over" is not only the law in all fifty states, but when you move over the driver behind you will pay it forward and move over too!
Be Safe out there!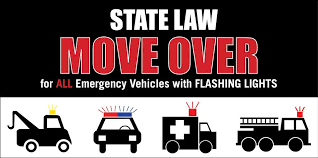 https://www.transportation.gov.connections/move-over-its-law
https://www.google.com/search?q=image+of+move+over+it%27s+the+law+pennsylvania&rlz=1C1GCEA_enUS799US799&tbm=isch&source=iu&ictx=1&fir=IoYNsd4TDaX9gM%253A%252Ck7ZDjYcueYMvlM%252C_&vet=1&usg=AI4_-kSGMqyHsqGUv46WA-sv9tYoKHCdRw&sa=X&ved=2ahUKEwjIh7-ypuThAhWqiOAKHd0TDNEQ9QEwAXoECAkQBg#imgrc=ZXcUVM4XSUv3fM:&vet=1