Winter storms and cold weather can wreak havoc on transportation, and it's important for any C-Store owner to be prepared for the harsh winter months.  Safety and preparation are vitally important to create an accessible environment for your customers, but it's also important to stock-up on key items that present selling opportunities and enhance revenue. Here are some tips for getting your convenience store prepped for cold weather.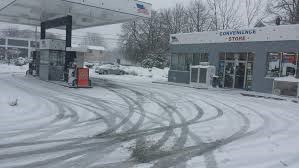 Receiving fuel deliveries during icy or snowy conditions can be challenging, and sometimes impossible, so every C-Store owner needs to be acutely aware of incoming weather. Owners should monitor the weather every day and stock up for a surge in sales prior to a storm arriving. Owners need to schedule deliveries ahead of time and should also make backup preparations with local fleets in the event their primary vendors are incapable of delivering fuel. Shutting down during or before a storm will lead to a major loss of revenue and will leave customers frustrated, potentially leading to future loss of business. Drivers in southern states tend to panic buy before any snowfall and you need to be prepared for the influx of customers before it's too late and you can't receive the extra loads required.
Safety and cleanliness are also key for repeat business during the winter months. Maintaining the outside of the store requires shoveling and salting all walkways and travelled areas, but as a result much of the salt and sludge gets tracked into the store. Floors need to regularly be swept and mopped, and rugs need to be rotated and cleaned on a consistent basis. Having an accessible and clean store will lead to repeat business from satisfied customers.
Finally, winter months offer a great opportunity to increase sales inside the store. Keeping a full supply of rock salt, ice scrapers, windshield wiper fluid and firewood will position your store well to take advantage of the winter conditions. Additionally, it's important to stock up on basic food supplies that frequently run out at grocery stores like milk, bread, eggs, and frozen foods. Consumers are looking for a "one stop shop" to get gas and home supplies to cope with challenging winter conditions, and they'll frequently pay a premium over your local grocery store that sold out of these items.
The keys to managing a Convenience Store through the winter months is always being prepared and always maintain exceptional levels of cleanliness and stocked items.  Don't get caught off guard last minute and miss out on increased sales and an opportunity to create a loyal customer base.