Today marks the sixth day in a row that the world's third busiest container port remains partially closed. China's Ningbo-Zhoushan container port shut down their Meishan terminal last Wednesday after one of their employees tested positive for COVID-19. Ningbo authorities stated that the port worker was believed to be fully vaccinated but received an inactivated second dose in March of this year. Further testing showed the worker was infected with the delta strain and it was likely contracted from close contact with sailors of foreign cargo ships. China's zero tolerance approach for Covid means the Meishan terminal is to stay closed until there is no danger of further contamination.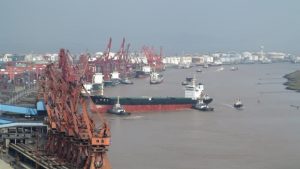 Last week's shutdown now marks the second Covid outbreak at a Chinese port. In June of this year the Shenzhen port had to shutdown it's Yantian terminal which resulted in a 70% reduction of exports. This tripled the wait time for processing shipments from 3 days to 9 days. The Ningbo-Zhoushan Port was proactive in negotiating with shipping companies and directing them to other terminals, but the ripple effect of this closure has some experts uncertain as to what the future holds.
The unexpected June shutdown had its impact on the Port of Los Angeles which saw its volumes dip. This coincides with the Baltic Dry Index report that bulk shipping prices were up more than 10% from just last month. There is a fear that if other ports experience Covid outbreaks and are forced to shut down temporarily, we could slip back into the 2020 slowdown of the supply chain. With the holiday and shopping season just around the corner there could be expected shortages on all goods ranging from food to electronics.
https://www.ttnews.com/articles/chinas-port-shutdown-raises-fears-closures-worldwide
https://www.cnbc.com/2021/08/13/chinas-zero-covid-strategy-to-disrupt-shipping-as-ningbo-zhoushan-port-shuts-.html
https://www.bloomberg.com/news/articles/2021-08-16/world-s-third-busiest-port-remains-partially-shut-in-china