The Permian Basin, located in west Texas and southeastern New Mexico, has just become the world's top oil producer. The Saudi Ghawar oilfield "produced 3.8 million BPD in 2018. The Energy Information Administration reports that the Permian Basin is now producing 4.2 million BPD."[1] As U.S. production increases in the Permian, crude is king and natural gas is considered a byproduct – a very different situation than what is seen in the Appalachian region. Where Appalachia is focused on producing natural gas, Permian cannot get rid of it fast enough.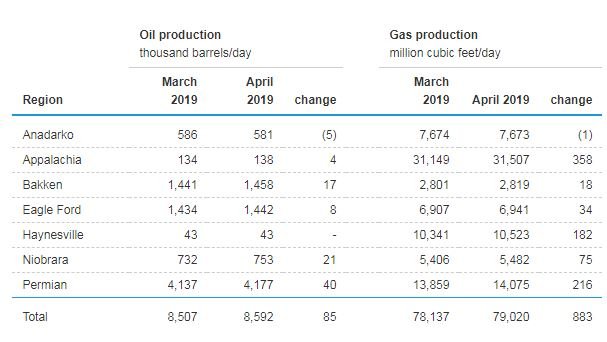 Source: https://www.eia.gov/petroleum/drilling/#tabs-summary-2
Producers in the Permian have such a surplus of natural gas, they have to pay other companies to remove it. The region lacks the needed pipelines to move out the natural gas, and the abundance issues are compounded with equipment issues at two New Mexico compressor stations. "Natural gas in the Permian typically sells at a discount to the rest of the country because there is a large amount of production, limited pipeline capacity and very little storage or on-site demand. The problem has been heightened in recent weeks because of a combination of seasonally low demand and a series of pipeline and storage maintenance issues."[2]
Producers in the Permian have been given output targets, even if that means operating at a loss. Last year, the majority of shale companies operated with negative margins when it came to spend versus profit. As crude production in the Permian continues its climb, companies may have just enough time to flare off natural gas while waiting for pipeline construction to be completed. "A glut of gas may not affect oil operations because 'flaring regulations allow for enough wiggle room for producers to meet output targets,' Barclays wrote in a note. Texas regulators issue permits that allow companies to flare gas for up to 180 days, and the Texas Railroad Commission 'rarely denies these,' the investment bank noted. Beyond that, drillers can obtain extensions."[3] The flaring period should allow producers to continue to produce crude until the new pipelines capacity is opened up. As producers continue to focus on crude output, natural gas prices are projected to remain low.
[1] https://www.forbes.com/sites/rrapier/2019/04/05/the-permian-basin-is-now-the-worlds-top-oil-producer/#1a0b16433eff
[2] https://newsok.com/article/5627827/natural-gas-prices-fall-to-negative-in-the-permian-basin
[3] https://oilprice.com/Energy/Gas-Prices/The-Worlds-Cheapest-Natural-Gas.html