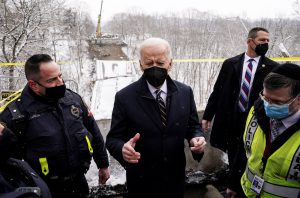 On November 6, 2021, Congress passed The Bipartisan Infrastructure Deal with a goal for rebuilding American roads, bridges, and railways, greater access to clean drinking water, ensuring access to high-speed internet, taking on climate change, availability of more electric vehicle charging stations, and advance in environmental justice. The legislation plans to make improvements to all forms of transportation and add 1.5 million jobs per year over the next 10 years. This will grow the US economy and help diminish inflationary pressures through the creation of good paying union jobs, strengthen the supply chain, and lower the cost of goods.
The rebuilding of America's roads, bridges, and rail system has been long overdue, and the effects of the COVID-19 pandemic on America's supply chain brought that to fruition. Truck drivers helped keep America afloat during the peak of the COVID-19 pandemic. America is now facing a backlogged supply chain due to the COVID-19 pandemic, driver shortages, and increased demand in online shopping. These problems have increased the number of drivers on the road, and it's taking a toll and chewing up pavement. State and Federal transportation agencies estimate that trucks are responsible for between 35% to 40% of all highway maintenance and account for less than 10% of the driven miles. Below is a breakdown of the toll trucks have on the roads.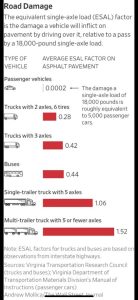 Last week President Biden was set to visit Pittsburgh when the Fern Hollow Bridge collapsed. This catastrophe highlighted the need for Biden's Bipartisan Infrastructure Deal. The Fern Hollow Bridge has been rated in "poor condition" for the last 10 years, and Pennsylvania alone has over 3,000 bridges in poor condition today. This bill will allocate 1.6 billion to Pennsylvania and 26.5 billion nationwide for repairing and restoring bridges.
With the need for restoring roads and bridges funded by the roughly 1 trillion infrastructure bill, President Biden signed into law last November. This bill will mean more well-paid union jobs in the construction sector for the next 10 years. Construction work will continue to grow, and companies will have to add more and more employees, transportation equipment, company trucks, etc. to keep up with the demand.
When your construction business continues to grow, fuel purchases will be a large portion of the cost of running your business and tracking your purchases will become harder and harder. Whether you need bulk fuel or are looking into transitioning from a credit card to a reliable fleet card. Here at Guttman Energy, we offer a complete solution to your fueling needs. Contact Guttman Energy  and speak with a dedicated account representative for more information and how we can simplify your fuel purchases today.
Sources:
https://www.politico.com/news/2022/01/28/pittsburgh-bridge-collapse-biden-infrastructure-visit-00003148
https://whyy.org/articles/buttigieg-touts-1-6-billion-for-pa-bridges-as-part-of-biden-infrastructure-bill/
https://www.whitehouse.gov/briefing-room/statements-releases/2021/11/06/fact-sheet-the-bipartisan-infrastructure-deal/
Trucks Are Clogging America's Roads, Delivering Goods and Tearing up Yards – WSJ
https://www.cnbc.com/2022/01/28/bridge-collapses-in-pittsburgh-hours-before-biden-visits-to-promote-infrastructure-law.html