As market participants digest a neutral to slightly bullish Weekly Petroleum Status Report, they must also make a calculated risk assessment of whether the 43.52% rally from last mid-summer lows is just a pause in the 179 day bull run OR has the worm finally turned and trade war fears, higher oil inventories, strong shale output growth and steep monthly drop in crude imports by China have introduced a headwind that is insurmountable. U.S. Energy Information Administration showed U.S. crude inventories rising by 2.4 million barrels in the week to March 2nd, distillate inventories falling by 559k, and gasoline stocks falling by 788k. Rising U.S. output reached 10.37 million bpd last week, keeping our inventories slightly above the 5 year avg.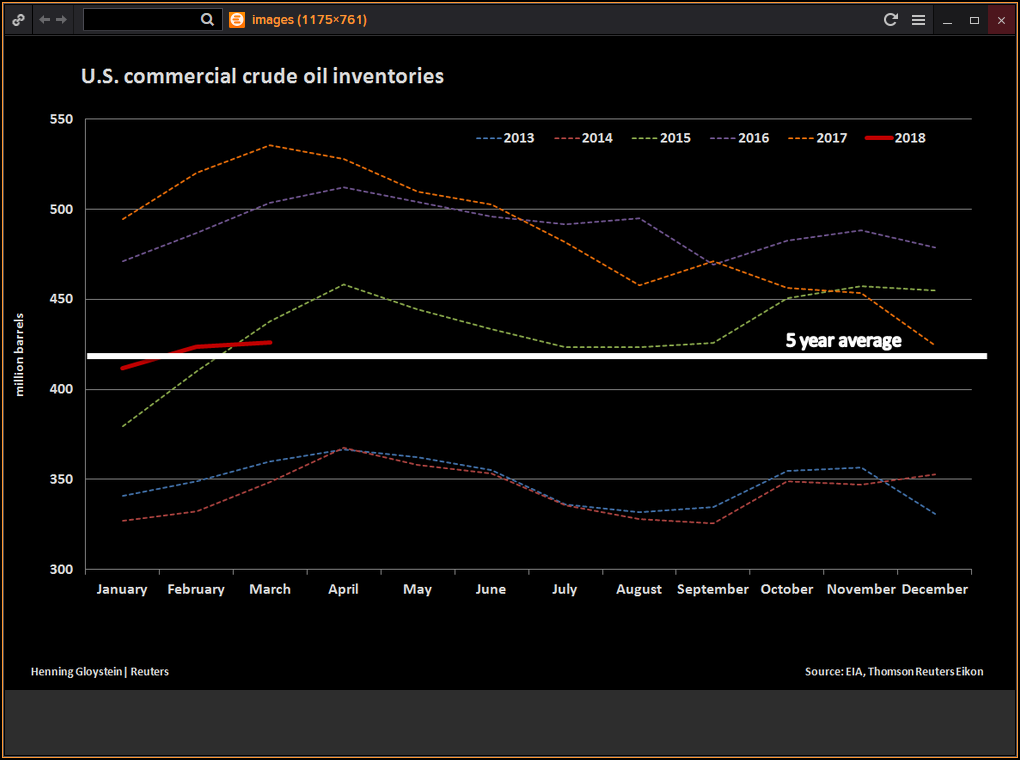 As of 12:30pm EST, WTI for April delivery is down $0.67/bbl at $60.48, HO is down $0.0070/gal at $1.8676/gal, and RBOB is down $0.0302/gal at $1.8801/gal. With only minor support and resistance levels sitting at $60.87 and $62.60 respectively we are most likely in for a volatile next few trading days. A settlement today below $59.36 indicates a pullback to $55.79 by the end of next week. A settlement above $62.60 indicates a push back up to $64.05 where the market can top out through next week.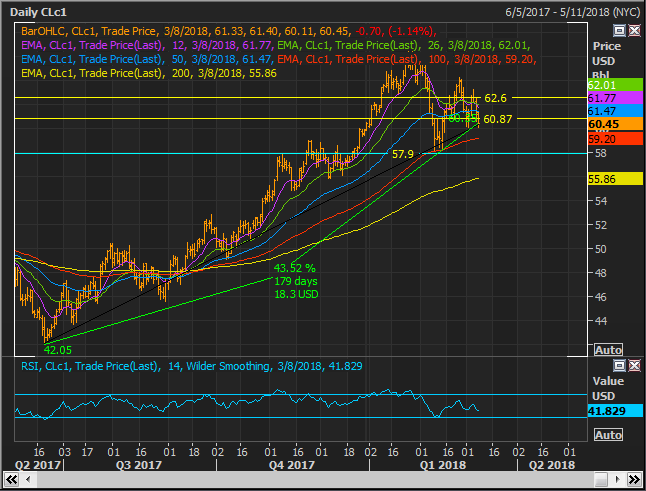 As one of the larger refineries, Movita Enterprise's Port Arthur 325,000 barrel-per-day, comes back online from their planned multi-unit overhaul, hedge funds remaining overwhelmingly bullish, uncertainty with inflation and rate increases keeping the financial markets on edge, upward revisions in U.S. oil and liquids production by 700k by year end, and signs of an inventory build at Cushing, OK a key U.S. storage hub, it is very difficult to foresee another leg up in our energy sector driven by demand only and gauge whether it is just a pause or that caution has started to seep into current prices and market participants' long positions. For now we can only pause for a cause that is celebrated across the world today…..Happy International Women's Day.