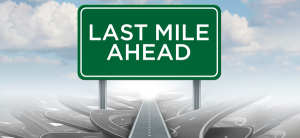 COVID-19 has changed third-party logistics (3PLs) and forced companies to create new strategic relationships and partnerships with the final-mile logistics; in order to compete with Amazon's same-day delivery services. The three main market sectors 3PLs and last mile delivery services can exploit to compete with Amazon are, ecommerce, medical lab logistics, and B2B freight.
The final-mile logistics is precisely what it sounds like, it's the final step of the delivery process. When a product leaves the distribution center and is taken to the end-user or final destination. The last mile delivery market is expected to reach 44.88 billion in the next two years, with an annual growth rate of 14%. With 3PLs and last mile delivery providers joining together, they can compete against Amazon.
There are three major areas of focus for 3PLs and last mile deliveries.
Ecommerce: Today's climate and how COVID-19 pushed online sales to increase by 44% in 2020, and with the reopening of retailers, consumers have all the power. Consumers can buy online making it much more convenient as opposed to the alternative, shopping at traditional brick and mortar stores. Pushing more consumers to online shopping and increase the opportunity for last-mile deliveries.
Medical lab logistics: Since the release of COVID-19 vaccines, there is more opportunity for the last mile delivery market to transport to hospitals and vaccination sites.
B2B: After supply chain disruption due to the Pandemic, Suez Canal blockage, and the Colonial Pipeline, this provides 3PL's and last mile deliveries with more opportunity. These obstacles create a sense of urgency for suppliers and push them to get goods to their destination as quickly as possible.
Amazon continues to grow and dominate the 3PLs with a market share of 60% and delivering 72% of all prime customer's products within 24 hours.
With the impossible task of competing with Amazon, 3PLs, and last mile delivery, services have plenty of opportunities. Only time will tell if the last mile delivery providers can compete with Amazon.
Pandemic impact on suppy chain relationships | FleetOwner