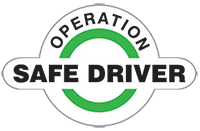 The week of July 11 through July 17 is Commercial Vehicle Safety Alliance's (CVSA) Operation Safe Driver Week.  During this time, law enforcement will be pulling over and giving citations to drivers of commercial motor vehicles and passenger vehicles violating the rules of the road, including speeding and unsafe driving behaviors.  This is in an effort to increase safety on the road to protect other drivers and passengers.
Last year, enforcement officers observed 66,421 drivers involved in unsafe and risky behaviors and issued 71,343 warnings and citations; speeding was the most cited violation.  This year, speeding will be the primary focus of the initiative.  In addition to speeding, law enforcement will be tracking other behaviors such as reckless driving, distracted driving, following too closely, improper lane change, failure to obey traffic control devices, failure to wear a seat belt and evidence of drunk driving.  Drivers' actions are the cause of 94% of traffic crashes.  Last year, roadway fatalities increased by 24% from the previous 12-month period which is alarming considering miles driven decreased by 13%.
The mission of the initiative, along with targeting unsafe driving behaviors listed above, is to educate all drivers about ways to drive and share the roads safely.  The Operation Safe Driver program educates young drivers about sharing the road with large trucks and buses.  In addition, it offers commercial driver educational programs to the motor carrier population and increases awareness to the public.
While safety should always be a top priority, carriers and shippers can prepare in advance.  Allowing longer lead times and building flexibility into schedules are ways to avoid issues next week and always.  Of course, always follow traffic laws and wear seat belts.  Technology is available to alert drivers in real time when they are over the speed limit, lane drifting, following too close, etc.
There are educational campaigns and outreach materials available to drivers:
Teens and New or Inexperienced Drivers
Commercial Motor Vehicle Drivers
Spread the word of Operation Safe Driver Week.  Become aware of your driving behaviors and make a change if needed.  Be safe when on the road.
Sources
https://www.cvsa.org/news/2021-osd-week/
https://www.echo.com/blog/operation-safe-driver-week-2021-how-shippers-and-carriers-can-prepare
https://www.fleetowner.com/safety/article/21160455/operation-safe-driver-week-2021-to-focus-on-speeding-unsafe-driving
Find out more about Guttman Energy and our solutions: https://www.guttmanenergy.com/fueling-solutions/