Just a few miles off the coast of Venezuela, in the bright blue Caribbean Sea, sits a small Dutch Island, Aruba also known as One Happy Island. Perhaps you have heard of it. Located on the South East part of the island is an idled 235,000 barrel-per-day refinery owned by Citgo Petroleum.
This refinery is a very important part of Aruba's history. In the early to late 1900's, the facility went by the name the Lago Refinery. Although much smaller today, at the time, "it was one of the largest oil-producing companies worldwide employing around 7000 people from 56 different countries." During World War II the refinery was of dynamic importance for supply of aviation gas for the allied invasion forces and helped the United States win the war in Europe as well as Japan. "Due to rising losses, the outdated and obsolete Lago refinery closed down in 1986." In 2012 Valero Energy purchased the Lago Refinery, but due to low profits shuttered the facility. In 2016, Citgo signed a $685 million lease to restore and begin operating the refinery again.
The refinery was set to be refurbished in early 2018 but due to lack of credit, had to be postponed to later in the year. According to Reuters, "Sanctions imposed last year by President Donald Trump's administration on Venezuela and its state-run oil company, PDVSA, limit their access to long-term credit, affecting oil projects in the OPEC-member country and in the Caribbean islands where PDVSA operates."
Phase 2 of the refurbishment process began in early September and is set to finish up in March 2019. An Argus Media article on the subject states that, "In the meantime, Citgo is using Aruba as a terminal, routinely unloading DCO tainted by excessive water into storage tanks to allow it to settle before reloading it for export to the US and Asia, a local shipping source said. Around three 500,000 bl cargoes of DCO and occasionally Boscan crude or fuel oil come through Aruba from Venezuela each month."
Over the next few months or even years we will see if Citgo is able to retain the refinery or be forced to sell it off due to economic sanctions placed on their parent company.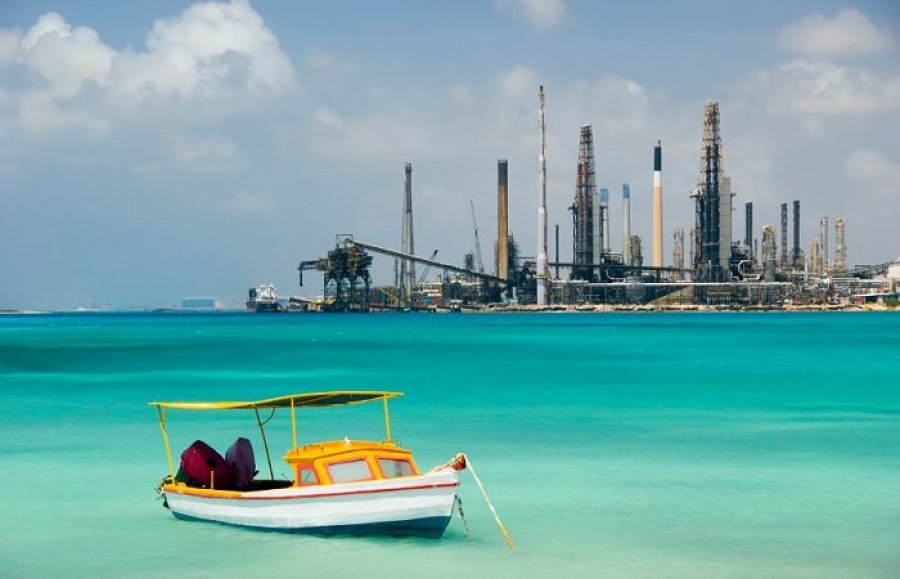 https://www.reuters.com/article/us-aruba-refinery/aruba-government-begins-talks-with-u-s-over-aruba-refinery-pause-idUSKCN1G62H4
http://www.historiadiaruba.aw/index.php?option=com_content&task=view&id=28&Itemid=42&lang=en
https://www.argusmedia.com/en/news/1758374-aruba-souring-on-citgo-upgrader-update