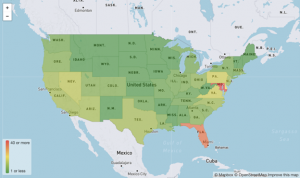 Truck drivers deal with dangerous road conditions daily. From distracted drivers, to poor road conditions, along with congested highways. Knowing in advance the road hazards can help keep fleets safer.
Omnitracs data scientists have created a live map of the U.S. that shows the most dangerous locations for commercial vehicles based on aggregated customer and third-party data. Omnitracs lead data scientist, Pierre Sarnow constructed a database of dangerous locations across the United States.  Locations are based off where vehicles have had a history of excessive speed, accidents, rollovers, hard braking, and low clearances. The data was then placed on a map using the Omnitracs navigation tool.
Customers can request specific data that is available on the Omnitracs's navigation app. Using the app, drivers can see in advance certain road conditions and hazards in real time that is refreshed quarterly.
https://www.fleetowner.com/technology/article/21173362/knowing-the-hazardous-roads-in-advance-can-make-fleets-safer