Like any relative who has overstayed their welcome, Old Man Winter continues to linger in the Northeast this week as a third Nor'easter in two weeks is slated to blanket the East Coast with more snow. With the possibility of up to 20 inches in certain parts of New England and heavy rains forecasted in parts of Kentucky, Virginia, West Virginia, and North Carolina, individuals and businesses have safety on their minds.
During times of inclement weather, there are a plethora of issues that can arise. Everybody should prepare and have a plan in place for times such as these. If appropriate measures are taken, they can avoid hazardous situations and be prepared for any "unknowns" that may spring up.
Common sense dictates that you should avoid extreme weather conditions if at all possible. For many Americans this means working from home and avoiding dangerous driving conditions all together. You should have a quiet, adequate workplace set up so that you can comfortably replicate your work environment to be as productive as possible. If your customers or clients are closed for the day, that time can be used to catch up on tasks you have pushed back or have been too busy to complete.
If you have to travel, for work or personal reasons, you should be as prepared as possible before setting foot out the door. If commuting to work then you should map out your route to account for road closures and possible delays. Websites such as Google Maps and Apple Maps are useful tools for showing accidents and closures to help with taking a safe route to your destination. Also, check up with local news channels and websites to stay tuned for any changes that occur as a result of the weather.
Inside your vehicle should be a winter safety kit. In the event of a breakdown or stoppage for any prolonged period of time, you will be prepared to endure until help arrives. This kit should include essentials such as blankets, gloves, hats, and a flashlight. Other items to consider are a portable cell phone charger, jumper cables, first aid kit, water, and nonperishable snacks such as protein bars or beef jerky.
Automotive safety should be your top priority if you have decided to venture out during these storms. Before you leave your driveway or lot, be sure to clean off your vehicle as best as possible. Poor visibility from falling rain or snow will already be a concern, so driving with an obscured windshield that is not defrosted and covered in ice is only increasing your chances of an accident. Make sure to defrost your windows and scrape any ice and snow from them. Also, make sure to clean off the roof and hood of your car to prevent snow and ice sliding down in front of your windshield or hitting a vehicle behind you. Having a nonchalant attitude towards your own safety, increases the likelihood that fellow drivers may suffer from your ineptitude.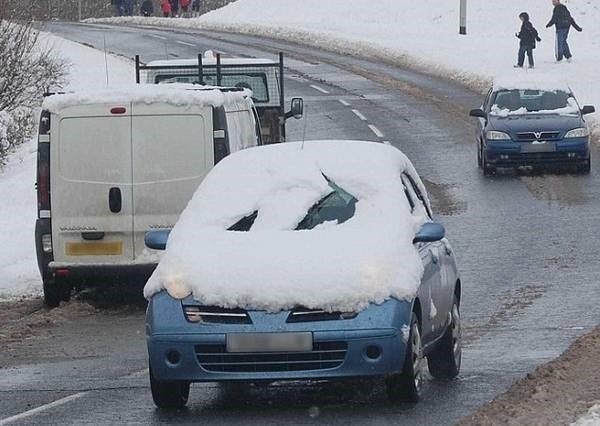 Once on the road, be aware of all of your surroundings. While you may be taking every step to operate your car or truck safely, other drivers on the road pose an even greater threat. Driving slowly and taking stock of the other vehicles around will allow you to operate your vehicle in a safe manner and be ready to take action if you see cars sliding or skidding along the road.
These cold and snowy winters can be bleak and unrelenting, causing stress and delays, but you should always keep your safety in mind when experiencing poor weather conditions. Acting in a safe manner gives yourself the highest probability of making it through the storms unscathed. Spring is right around the corner, let's hope Old Man Winter takes the hint and heads home until next year.
http://media.breitbart.com/media/2015/05/SnowMiser-640×480.jpg
http://abcnews.go.com/US/northeast-braces-3rd-noreaster-weeks/story?id=53678598
http://1.bp.blogspot.com/-uQ-LmiAJWlQ/Ut8qscPphiI/AAAAAAAAAqE/XtQqqfpsVu8/s1600/snow-driving.jpg