Initially lower, oil prices are now up on the day as traders look to square positions heading into the weekend after the down day yesterday. The market was lower at first light with news that Iraqi security forces took back a key oil region held by the Kurds, but was squeezed higher as the morning progressed with November ULSD currently leading the charge, up $0.0197 to $1.7964/gallon.
Iraqi security sources said that they had taken back control of the last district in the Kirkuk oil-rich area that the Kurdish Peshmerga fighters were holding onto. Chevron said it will halt drilling in the area temporarily, but the fact that the Iraqis are taking it over created initial selling pressure in the oil patch today. However, the crack spreads continue to find a bid, especially ULSD, as Chicago ULSD Cash closed at a 2 year high of $1.9417 due to refinery turnaround season. Shell and BP have been big buyers this week as their refineries prepare for the winter season.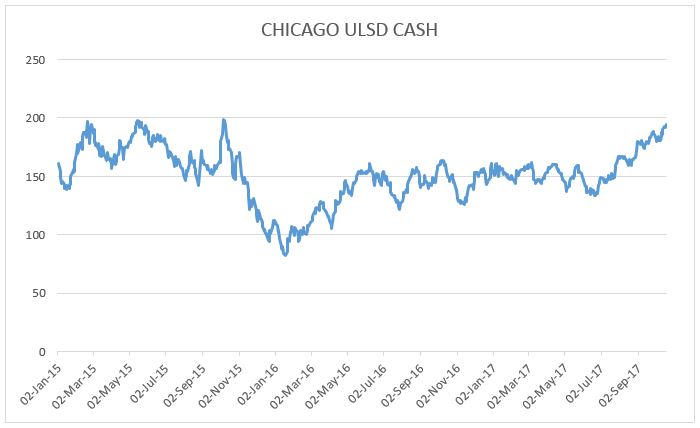 Russia's largest oil company, Rosneft, has agreed to take 60% control of and invest in Iraq's main oil pipeline in Kurdistan that normally ships about 600,000 barrels per day to Ceyhan, Turkey. Because of the latest strife between the Iraqis and Kurds, the pipeline is only shipping about 200,000 barrels per day. Rosneft has plans to increase the pipeline's capacity to 950,000 barrels per day. This Russian takeover of the pipeline was declared a provocation by the United States, but Russia claims it is supporting the Kurds right for independence (and profiting from it).
November WTI crude is trading higherby $0.14 to $51.43/barrel and RBOB is up by $0.0197 to $1.6644/gallon.