Governor Wolf is attempting to "clean up" Pennsylvania's emissions. His new Executive Order will require 25% of government vehicles to be replaced by electric vehicle by 2025. The big push for this change is mostly financially motivated, as it is projected to gain the state just under 3 billion dollars in subsidies due to a reduction in vehicular and greenhouse gas emissions. Major cities such as Pittsburgh and Philadelphia are doing their best to stay ahead of the curve. Other benefits include lower greenhouse gas emissions and a speculation that respiratory disease might be reduced.
Until recently, there has been curiosity about the Electric Vehicle's, and what impact they could bring to the state, but no synchronized approach to bring them into the statewide scene. The state has published a lengthy Electric Vehicle Roadmap that highlights the strategy involved in bringing more relevance to these Electric Vehicles. You can read further into the Electric Vehicle Roadmap by clicking HERE.
It has been estimated that one fifth of the greenhouse gas emissions in PA are linked to passenger vehicles, which will be impacted by this Executive Order. There is speculation about how much this will actually impact the emissions, due to the large amount of commercial vehicles that will be unaffected by this change. Currently only about .002% of the vehicles in Pennsylvania are fully dependent on electricity. The driving factor in the these decisions for everyday residents of PA, will continue to be the upfront costs associated with Electric Vehicles, the limited ranges, and the lack of readily available charging stations.
For the time being, diesel and gasoline powered vehicles will continue to rule the market, with no signs of slowing down. Each day petroleum powered vehicles continue to make leaps and bounds with efficiency and dependability. Oil will continue to drive the transportation industry for the foreseeable future and by a wide margin.
The chart below displays the vehicular fuel projections through 2050.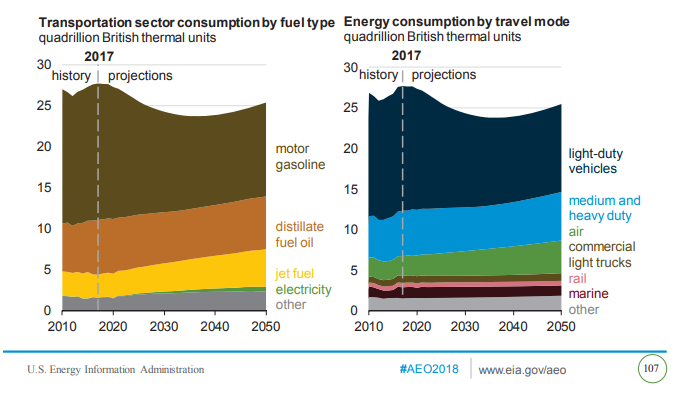 http://www.exploreclarion.com/2019/02/14/dep-unveils-plan-to-increase-electric-vehicle-use-in-pennsylvania/