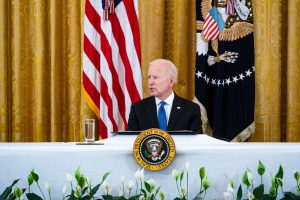 As President Biden unveiled his infrastructure plan in Pittsburgh yesterday, it kicked off the first step in what is estimated to be a months-long negotiation with Congress. The American Society of Civil Engineers estimates that approximately $2.6 trillion dollars is needed to restore America's infrastructure over the next decade. Biden's plan, called the "American Jobs Plan," is estimated to be around $2 trillion. The plan is said to be funded by raising corporate taxes from 21% to 28%.
The proposal includes the following areas:
$621 billion – Transportation

The largest portion of the funding is focusing on improving the nation's transportation infrastructure. The areas encompassed in the plan include roads, bridges, rail, waterways, ports, public transit, airports, and alternate fuel vehicles. Over 20,000 miles of roads would be modernized, and additional funds are allocated for the improvement of public safety. The plan doubles the amount of funding given to public transit.

$400 billion – Home care services and workforce

The main areas would provide funds for the expansion of Medicaid and improving wages for home healthcare workers. There is also discussion of the unionization of these workers.

$300 billion – Manufacturing

The influx of funding for is split over various manufacturing sectors including semiconductors, medical and clean energy. There would also be funding for federal purchases of electric cars, charging ports and clean energy for commercial and residential buildings.

$213 billion – Housing

The focus of the housing funding would go to building or revamping existing affordable housing. It would also include funding for building and rehabbing homes for low- and mid-income buyers.

$180 billion – Research and development

The funds would be invested in what are considered "critical" technologies that would allow the US to continue to be a world leader. Additionally, it would aim to decrease gaps in inequalities within science, technology, engineering and math areas.

$111 billion – Water

The first step would be to replace the lead pipes and improve service lines across the country. Second, the plan would upgrade the country's drinking water while attempting to eliminate contaminates.

$100 billion – Schools

The split among schools would allow for funding to upgrade existing public education buildings, additional infrastructure at community colleges and upgrade childcare facilities. There is an additional part of the plan to expand a tax credit to employers that are willing to build their own childcare facilities.

$100 billion – Digital infrastructure

This plan would give all Americans access to reliable, affordable high-speed internet.

$100 billion – Workforce development

The development would range from retraining workers to apprenticeship/career pathway programs to training the formerly incarcerated.

$18 billion – Veterans' hospitals and federal buildings

This area would allow for the modernization of these buildings.
The second part of the plan is entitled the "American Families Plan" that the President plans to elaborate on in upcoming weeks. He stated, "It grows the economy in keyways. It puts people to work to repair and upgrade that we badly need. It makes it easier and more efficient to move goods, to get to work, and to make us more competitive around the world."