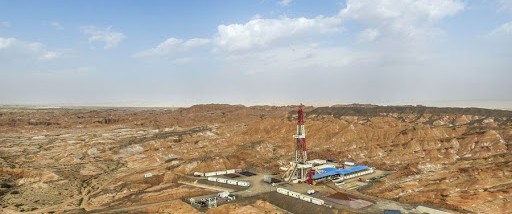 Last Friday China's National Petroleum Corporation made a significant discovery while drilling in the Tarim Basin located in the Fuman Oilfield area of the Xinjiang Uyger Autonomous region. In their drilling efforts, China uncovered a new 1-billion-ton oil and gas area making it the largest discovery in over 10 years. The Furman Oilfield is one of the most challenging oilfields in the world for drilling.
Drilling reached 8,470 meters and the height of the test oil column hit 550 meters. These lengths marked records for the deepest oil production and the highest oil column in the desert of the Tarim Basin.
In the last six years since the discovery of the Fuman Oilfield, production has increased from 30,000 tons to 1.52 million tons just last year, with an estimate of 2 million tons in 2021. The Tarim Oilfield Company has managed to drill deep into the earth, approximately 8,000 meters and gain a success of new wells from 75 to 95 percent. General manager of the Tarim Oilfield Company, Yang Xuewen said, "In Fuman Oilfield, we have successively drilled 56 100-ton wells and found a new oil reserve area on 1 billion tons (about 907 million tonnes). This has been the largest discovery of oil exploration in the Tarim Basin in the recent decade."
One of the biggest challenges China has faced over the years are the geologic formations in this region that make it difficult for drilling.  This causes the country to be dependent on imports of 70 percent. Currently, China is on track to becoming the world's largest importer of liquified natural gas, overtaking Japan.
Last year, China produced 3.87 million bpd of oil with a 1.6 percent increase from 2019 putting the country in one of the top ten oil producers globally.
https://oilprice.com/Energy/Crude-Oil/China-Reports-Major-Oil-And-Gas-Find-At-Record-Depths.html