Toll roads are nothing new to the American public.  The inception of road tolling came about in the early 1900s when there was a need to generate revenue to build and maintain roadways.  Toll roads today still exist to generate revenue, but they have grown far more complex.
Today, modern toll roads fall into two models: The Build-Operate-Transfer (BOT) system and the Turnpike Authority.  PrePass says, "The BOT system operates as a Public Private Partnership in which states contract with private firms to build and run a tolled facility.  The private firms then sell revenue bonds to finance that constructions and maintenance."  An investor looking to purchase a bond can expect steady returns with a steady stream of traffic.  To prevent competition from outside parties, the private firms negotiate a "franchise" over the route which gives them exclusivity through the duration of the contract.  Turnpike Authority's operate as an extension of the government and are established by state legislation.  The individual states are then in charge of the construction and management of tolled facilities.
One issue that mars the Turnpike Authority model is that states hold final authority of how to spend toll revenue.  The American Transportation Research Institute (ATRI) reports "that over 50% of toll systems' revenues pays for uses other than the operation and maintenance of the toll road itself.  That diversion of toll revenue effectively leads to a 50% increase in cost to motor carriers who use tolled facilities."  Heavy users of toll roads of course include over the road trucking companies, but this dispersion of funds has led some to question why their industry has seen the toll rates increase annually.  The ATRI ran a study of the top 21 toll agencies from 2009-2018.  They compared the annual toll revenue increase over the 10-year stretch.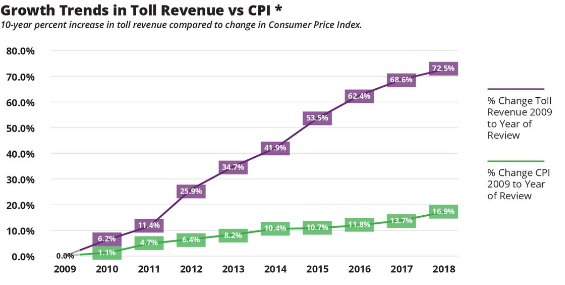 With the COVID-19 pandemic's budget related issues, it is safe to say that the tolls will not be decreasing anytime soon.  You can learn tips to save on truck tolls by reading a guide put together by PrePass.  The link is below.
https://go.prepass.com/WP-2020-06-29-World-of-Tolling_LP-Form.html?utm_medium=digital_advertising&utm_source=transport_topics&utm_campaign=world_of_tolling&utm_content=whitepaper
https://www.ttnews.com/articles/how-save-time-and-money-truck-tolls