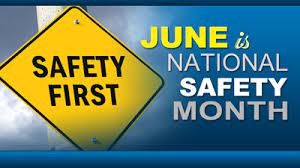 This June marks the 25th anniversary of National Safety Month, an annual observance to help keep people safe at the workplace, at home, in our communities and on roadways. While the month of June focuses on safety in all aspects of our lives, we need to be diligent regarding the safety of ourselves and others year-round. In 2019, the U.S. saw the highest number of fatal workplace injuries since 2007 with 5,333 deaths. In 2020, approximately 42,000 deaths occurred on the nation's roadways alone.
This year's National Safety Month's weekly topics are as follows:
Week 1 – Prevent Incidents Before They Start
Week 2 – Address Ongoing COVID-19 Safety Concerns
Week 3 – It's Vital to Feel Safe on the Job
Week 4 – Advance Your Safety Journey
With many companies' employees returning to the offices in recent and upcoming months, now is a good time to either refresh employees on safety topics or consider making safety a top priority if it wasn't in the past. Forming a Safety Committee with monthly meetings, having a safety suggestion box, and sending out weekly/monthly safety topics can help prevent incidents before they start. Drills and preparedness exercises for employees to know what to do in case of emergencies while at work are extremely helpful.
Current and upcoming months safety topic suggestions include the following:
Summer Months: Extreme Heat Safety/Summer Safety including Boating, Water, Grilling, Firepits, and Fireworks/Pets and Heat
Fall Months: Back to School – Children & Youth Preparedness/School Bus Safety/Fall Safety including Upcoming Cold and Flu Season, Caution Trick or Treating with Children and Upcoming Hunting Seasons
Winter Months: Winter Safety including Driving in Winter Conditions, Home Heating/Holiday Cooking and Fires Safety
If your company needs any additional information or ideas on safety topics, visit https://weeklysafety.com/free/10-free-safety-topics.
https://www.nsc.org/work-safety/get-involved/national-safety-month
https://weeklysafety.com/blog/national-safety-month
https://www.ready.gov/calendar
https://www.safetyandhealthmagazine.com/articles/21310-nsc-celebrates-25-years-of-national-safety-month